Bikes At Dhaka International Trade Fair 2016
Published On 10-Jan-2016 03:41pm , By Shuvo
Dhaka International Trade Fair is one of the biggest festivals in Dhaka city it is held just beside Bangabandhu Conference Hall every year in January and this year is no different. The event mostly consists of products of Bangladeshi companies followed by many foreign companies.
This year only 4 bikes companies attended the fair which was a bit of a shock as this one month festival does attracts a huge amount of crowds and seeing only 4 bike companies was a real shame. Given the fact that there were only 4 companies it was nice to see that all of them offered some exclusive discount offer for people who will booked or buy the bikes from the fair.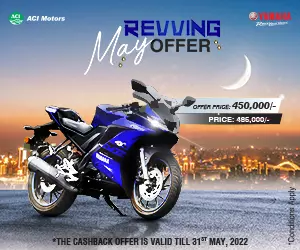 MAHINDRA TWO WHEELERS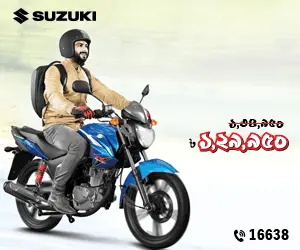 Probably the best looking stall in the whole fair (automobiles). They are offering huge discount on their bikes. Mahindra is starting to to have more bikes in the corporate sections. In the past they used to only market but now they have bought some bikes too.
One of the bike that is a bit interesting in this fair is Mahindra Arro, the bike is a bit old fashioned and are mainly targeted in rural area but it's design is very modern indeed. Their core model which they displayed on the fair was Mahindra CENTURO which has disc brake in the front & tubeless tyres While Centuro NXT don't have any front disc brake.
The bike features build in security systems like an inbuilt engine immobilizer that locks the engine and triggers a loud alarm when the wrong key is used, one-of-a-kind Find-Me Lamps to remotely locate the bike even in crowded or dark parking lots. Lamps that light-up your path for some time after you've switched off the ignition, a digital dashboard that alerts you when you are travelling in the economy mode and when your bike is due for servicing.
They are also offering two scooters for sale during the whole fair among which Gusto an 110cc has grab the attention of many fans in the market these days. With every bike or Mahindra are offering 5 years engine warranty. One of the striking thing in their pavilion was that they bought a 300cc Mahindra Mojo, but as we have engine displacement restriction in Bangladesh, sadly we won't get to buy that bike.
| | | |
| --- | --- | --- |
| Models | ORIGINAL PRICE | DISCOUNT IN FAIR |
| Centuro NTX | 1,42,000 | 4000 |
| Centuro (Disc Brake) | 1,48,500 | 7500 |
| Arro | 1,18,500 | 7500 |
| UZO 125 () | 1,44,000 | 4000 |
| Gusto () | 1,47,000 | 7500 |
MAX MOTORS
One of the new comer in the industry is Max Motors who in a very short time became very popular among the young generations with their models Motrac & Italjet.
A small bike which to be honest seems like it was build for boys rather than for men. The bike is equipped with a 125cc engine which pumps up little over 9 BHP. The handle of the bike is upright but the sitting position is too low. They also have an electric version of the pocket bike which cost very very less to run and are very popular among the goers who need to commute 20-30 km a day from home to .
They say that scooters are for ladies but straight away when you see it you will get the feeling that this was probably made for men. It is one of the most beautiful and aggressive looking thing I have seen in a long time. Italjet moto is an Italian company & they design some beautiful looking . From the front anyone will say that the looks more like it was designed in the Ducati factory.
| | | |
| --- | --- | --- |
| Models | ORIGINAL PRICE | DISCOUNT IN FAIR |
| Motrac M2 (Electric) | 1,05,000 | 5000 |
| Motrac M3 ( Fuel) | 1,85,000 | 10,000 |
| Itlajet Moto () | 1,47,000 | 10,000 |
ZNEN MOTORS
The only innovative bike company in the whole fair and probably the only one who will win most from participating in the fair. Znen is famous brand from China, the local distributor only used to bring but he used the fair for right purpose to display 3 new bikes in the fair which will come in their showroom very soon.
We have tested their ultra big Znen Vista last year and this year we have tested Znen T6 and in the fair they displayed three new bikes, a 125cc bike name REX and two 150cc bike in the name of Vento which will be a cruiser and a sports naked bike name DBR.
We are still to know full details about the bikes but the people from showroom are saying that they are taking booking for the bikes and it will be launch very soon in Bangladesh. They too are offering some discount on any scooters which will be bought from the fair and also they are taking in some advance for their upcoming bikes which will be launch soon in Bangladesh. With every bike or Znen is giving 3 years engine warranty and one year unlimited free servicing.
| | | |
| --- | --- | --- |
| Model | Original Price | Discount due to Fair |
| SCOOTERS | | |
| T6 | 1,55,000 | 10,000 |
| Rx-125 | 1,35,000 | 5,000 |
| Vista | 2,00,000 | 5,000 |
| Roar | 1,85,000 | 5,000 |
| Classis | 85,000 | 5,000 |
| R8 | 1,05,000 | 10,000 |
| | 88,000 | 3,000 |
| Falcon | 1,40,000 | 9,000 |
| Rex | 1,39,000 | 7,000 |
| BIKES | | |
| Rex 127 | 1,39,000 | 7,000 |
| Vento | 1,54,000 | 5,000 |
| DBR | 1,75,000 | 10,000 |

JAMUNA AUTOMOBILES LTD
Jamuna has been around for quite a while with very little success. Recently they launched a brand new bike name as Evo 150R, but few were seen on the . They are giving away some discount from 5-7 % on different models. They are having Ananta Jolil as their brand ambassador and currently their cruiser bike Fabio is the best seller in the market. They are providing 5 years or 70,000 km warranty with each bike.
| | | |
| --- | --- | --- |
| Model | Original Price | Discount due to Fair |
| EVO 150R | 1,45,000 | 8,000 |
| Zeus | 1,35,000 | 9,000 |
| Fabio | 1,10,000 | 7,000 |
| Victory 100 | 90,000 | 5,000 |
| Victory 80 | 80,000 | 5,000 |
To be honest it was very disappointing for me as I thought that many companies would have turn up to display their bikes in the trade fair, Walton made an pavilion but didn't displayed any bikes on them, Runner Automobiles too weren't in the fair, neither was Bajaj, who could have used this trade fair to promote their upcoming Bajaj Pulsar AS150, which will be launch on 18th of this month. This could have been a good opportunity for the companies to come and display their bikes to a fair which is one of the biggest in Dhaka city.
You might also be interested in