Yamaha Will Inaugurate Factory In Bangladesh Very Soon - Robiul Haque
Last updated on 02-Oct-2023 , By Ashik Mahmud
During the 5th Dhaka Bike Show 2019, we had the opportunity to have a chat with Mr. Robiul Haque, Business Head of ACI Motors Ltd, the official distributor of Yamaha bikes in Bangladesh. We asked him a few questions which the biking community in Bangladesh has been asking for a long time & thankfully for us he managed sometimes where he answered us back.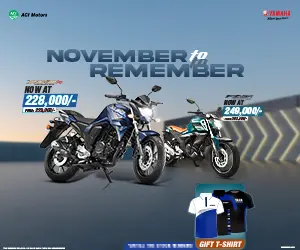 Questions for Yamaha about 5th Dhaka Bike Show
Q1: How are you feeling about the 5th Dhaka Bike Show?
Ans: This year Dhaka Bike Show is a massive thing comparing to the previous edition. Over the past years, it was all about bike display but now bike companies are also promoting outdoor activities to the customer to give them an experience. This year we also saw the launching of new models, some companies launched concept models. It was hard to control the crowd on Friday. In the future, these types of events will be more popular and we are hoping that Yamaha will contribute a lot in these community.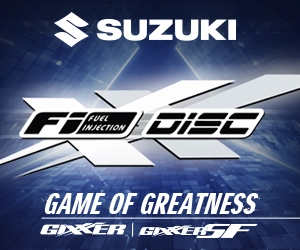 Q2: With so many top brands present in the event how does Yamaha plans to make the 5th Dhaka Bike Show the best experience for the bikers.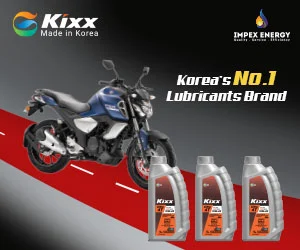 Ans: Yamaha had two themes at the 5th Dhaka Bike Show. First of all, we had an indoor activity where we displayed 2 brand new motorcycles. Yamaha FZS V3 & Yamaha MT15. Because we only have a 165 cc restriction we only gave the touch & feel the experience of those bikes only unlike our competitors who showed their legacy to the customers. Also, we have XL motorcycle, as we know that although the roads of Bangladesh aren't the best there is a selective group of bikers who love off-road bikes, as to we can see that our competitors are also concentrating on the future. In our outdoor activities, we had unconditional hospitality. Whether you are Yamaha users or non-Yamaha users we kept water, juice due to the heat which was there for the 3 days event. We had riding training for all the people who registered online.
Also Read: Coming Soon: Yamaha Riding Fiesta 2018 At Khulna
We made sure that whoever came into the event for riding training wore the helmet. We also gave the touch & feel the experience of motorcycle accessories like the helmet. On the evening of the final day, we arranged a Test Ride event for bikers on Yamaha FZS Fi V3. There was also Gymkhana for the skill riders to improve through the driving license to develop more skill.
Yamaha Motorcycles At Dhaka Bike Show 2019
Q3: Why Yamaha didn't bring any higher cc bikes like competitors?
Ans: Our concept was simple, we didn't want to bring any bikes which people in Bangladesh won't be able to buy instead we introduce showcased few models which people can buy in the future.
Q4: How is the response of Yamaha FZS Fi V3 & MT15?
Ans: If you look at the survey of BikeBD then you can see that the next two models after Suzuki Boulevard were Yamaha MT & Yamaha FZS Fi V3 among the most hype bikes from Dhaka Bike Show. So far the customer feedback is good as we know that Yamaha FZS Fi V3 has ABS braking and MT is an aspiration bike for the sports lover. To our surprise, we had a good response from Yamaha N Max, a sporty scooter which has ABS and many other features.
Q5: Price is an issue for Yamaha bikes, as they are priced over 40-50 k more than competitor bikes, we know that Yamaha is paying higher taxes but how long since Yamaha will go into CKD or Manufacturing?
Ans: As a brand, Yamaha has established in Bangladesh & so far we have satisfied our customers but we agree our prices are high compared to our competitor. The reason is we import bikes in CBU conditions and have to pay taxes of 153 % where our competitors pay taxes around 35 – 90%. ACI Motors with Yamaha has been for 2.5 years and it takes minimum 2 years to go for CKD (as per law of most Japanese motorcycle companies) & another 1 year for manufacturing.
We are happy to announce that we are already working for our CKD plant and very soon will be able to give CKD bikes to the Bangladeshi bike lovers & around the same time we will also reduce the price of our bikes. We are currently working twice as fast to catch up our competitors most of them already into the manufacturing process of lower cc motorcycles. Although the price will come down we will make sure that quality, trust, and safety of the bikes won't come down and for that Japanese engineer will work side by side with us to ensure that.
Q6: Will there be any special bike from Yamaha just for Bangladeshi market?
Ans: No, as you know the whole market size of Bangladesh currently is just around 5 lac, to make one model only for Bangladeshi market you need to have a bigger volume. If you compare us with India, they have a market size of 20 million and out of one model (commuting segment), they can pull out 5-6 lac units. To make the R&D cost effective it is not profitable for us. In India FZS goes around 6-7 lac per year but to make a bike for 50,000-60,000 units per year vendor cost will be very high. As India and Bangladesh has near about the same weather, height and road conditions we will bring most of our bikes from India.
Q7: 110cc motorcycle segment has around 50% market share, why don't Yamaha bringing any 110 cc bikes given they have options in the field?
Ans: The core strength of Yamaha motorcycles is in the 150 cc bikes if you see Thailand Indonesia, & Malaysia market there are 110 cc scooters. In terms of price-wise Yamaha bikes are always priced high in terms of competitors given feature-wise most of them are all same. We are not strong price-wise and Yamaha don't want to give any motorcycle to the customers where they don't find aspiration.
Due to the economic condition in Bangladesh in 5 years time more people will be interested in buying bikes around 150 cc as 75 % of the Bangladeshi population are aged under 40 and they still care about SPEED & STYLE & motorcycle is becoming more & more convenient we believe that 150cc motorcycle segment is the future in Bangladesh and the volume will increase from 30% to 35-40% in the near future. We believe that the volume of 150cc will be higher than that of 110cc
Q8: Will the Bangladeshi manufactured Yamaha bikes have MADE IN BANGLADESH tag in them?
Ans: Well, we would love to but we are not sure when. The stage through which we are going is localization where the biggest drawback is that in Bangladesh we don't have a proper vendor of plastic, steels & many other raw materials needed in the manufacturing of motorcycle. The engine is a far away but for chassis building, we need steel as raw materials and something the Bangladeshi suppliers can't provide us. We need to manufacture at least 30-50 % of a motorcycle to call it MADE IN BANGLADESH, slowly we will go and increase the amount of localization in Bangladesh. Currently, most companies are going after Chassis manufacturing then we will work on Plastic molding, then tire. With the help of JICA in Bangladesh, lots of vendor development is going on, back in the days in India there were JV too (Hero Honda, Kawasaki Bajaj, TVS Suzuki) so they developed slowly & we hope the same will happen in Bangladesh but might take another 5 years.
Q9: Is Yamaha in support for 250cc motorcycles in Bangladesh?
Ans: Permission related issue always depends on government 250 cc 110 units we had supplied to government, security-related issue 250 cc requirements fact government have to go over 250 cc due to crime and them believe that bikes are need government knows that people needs but security is an issue, others are working but in the future you have to give model lineup, 250 cc in many places as commuters after 250cc they think as big bike. Yamaha is strong in higher cc, this year will it happen we don't know.
Q10: When will we see the inauguration of the Yamaha factory in Bangladesh?
Ans: Sometimes around the Qurbani Eid in August 2019.
Q11: What was the purpose of bringing the Japanese trainer to train the bikers in Bangladesh?
Ans: In Bangladesh, most of us learn to ride a motorcycle by using other's bike and getting direction from friends or family members. Very fewer people have a proper driving lesson so to help them we started this riders training session. One of the things we try to teach the riders is that eye focus while taking a corner, we don't follow the traditional process. So we opened a riding school at Tejgaon, but the problem is we are currently doing on a mud field but not on a proper tarmac, so we are bringing the Japanese trainers to more develop the skill on the tarmac. We have a video at our Facebook Page about the riding skill where bikers can get some tutorial about it. One of our key reason to open the riding school is to help the female riders to ride a scooter or motorcycle as there is a very little scoop for female bikers in Bangladesh so we are giving training to female riders on Friday & Saturday. We make them aware of the traffic rules, safety issue, bike preparations and other things related to bike & riding a bike.
Yamaha MT15 In Bangladesh
Q12: Yamaha helped a lot to support male or female riders to train them, does Yamaha doing anything which will help them to get a driving license from BRTA much easily? Or are there any special offer/installments for female riders who will buy scooters
Ans: Riding training is FREE and open for all, the riders who are interested have to come through online registration. Yamaha is trying to get into the mind of the bikers but if any riders who got training from us want to buy a Yamaha bike we aren't providing any extra offer but we are helping them to get connected through Brac Bank & City Bank so that they can buy their desired motorcycle through installments.
Q13: Why mostly YAMAHA bikes are coming in Grey Import from INDIA? What initiative Yamaha has taken to stop it?
Ans: One of the key disadvantages we are having is that our bikes are coming in CBU in Bangladesh which our importers are taking advantages of. Because the importers don't have to calculate an overhead costing so it is easier for them to sell the bikes at a low price the comparing to ours.
Since February'2018 we had tried to stop sales & registration of the bikes as we are having case going in the court, we are hoping as ACI Motors Ltd is the official distributor of Yamaha motorcycles in Bangladesh, & we are doing motorcycle business following the guideline of the government, we are investing huge amount of money to make 3S centers, factory& paying the right amount of tax we hope that in the near future government will support us over the grey importers who are bringing Yamaha motorcycles.
Until we move from CBU to CKD it will a bit tough to fight off the importers but once we go into CKD then we can reduce the price. We had reports that the Yamaha R15 V3 which were brought by importers had some build quality issues, also there were issues with the ball racer but once we bought Yamaha R15 V3 officially we had little complained about these from our customers. Not only bringing the bikes we also gave proper training to the mechanic so that they can service the bike properly.
The grey market importers don't provide any type of after-sales service and most of the time we saw that the price of spare parts is very high. We have data which proves that bikers are now more interested in going to 3S service centers then going after normal mechanic shops for service after purchasing the bike from an authorized distributor. It is not only ACI Motors but also other motorcycle company information. If ACI Motors can get court order again then we will try level best to stop the registration of importers in Bangladesh.
Q15: Future plan of Yamaha in Bangladesh
Ans: Due to the engine limitation we are limited with our dreams but we are hoping that in 3 years times we will be able to give scooters, FZS series, MT15& R15 series to the bikers in low price. We also hope that the government will help us to make these motorcycle industries bigger in the near future. We will work with the biking group & community as they play a very important part of all these. Biking culture in Bangladesh isn't older than 8-10 years and it will grow more, we want to work with the safety of the bikers as well as Yamaha more into fun & excitement so we are hoping to promote stunt along with proper training for a stuntman.
FAQ - Frequently Ask Question
1. What is the smallest motorcycle in Yamaha?
Ans- The smallest motorcycle is Yamaha SR400.
2. Who started Yamaha motorcycle?
Ans- Genichi Kawakami started Yamaha motorcycle.
3. Who is the CEO of Yamaha motorcycle?
Ans- Yoshihiro Hidaka
Published by Ashik Mahmud
You might also be interested in