Sylhet Tour 12 Hours of Rain Wash
Published On 03-Aug-2016 07:59am , By Saleh
I will start with a small story, this year I had the chance to tour to Cox's Bazaar and Khulna, last year I went to the hill tracks many times but for a very long time I wanted tour to Sylhet & then finally with the help with my mates I managed to complete the tour successfully, but with a twist. This Sylhet tour was one of the memorable of my life, as for the first time in my life I rode in torrential rain for 12 hours! Se here is our story Sylhet Tour 12 Hours of Rain Wash.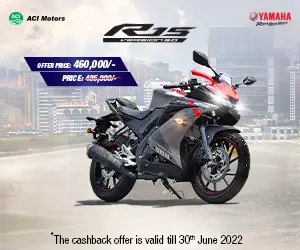 Ignition for Sylhet
It all started with me, Shawon & Jahir planning it out & then Bikebd's Editor & my colleague Saleh joined in the, Saleh rode with his Yamaha Fazer and Shawon with his Lifan KPR150, the two very bikes which completed that awesome tours on the hill tracks from DEC 16-19 2015 and on the final day we covered 530 km in 17 hours starting from Bandarban to Alikodom to Chokoria and ended up at Dhaka vai Chittagong.
For the first time in my life I got to ride a Yamaha M Slaz. Both me and Jahir were riding our Yamaha M Slaz & we set off from Dhaka at 6 AM in the morning and though we were stuck in some rain we managed to come to Sylhet by 1 PM.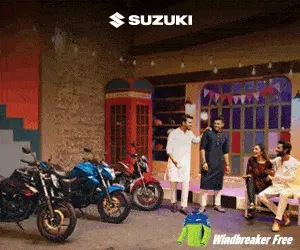 Road Rash on the Broken Trail
We had our lunch & we set off to Jaflong, & hell the roads were bad. The first 40 km the road was butter smooth, yes there were some pot holes but over all you won't complain about it.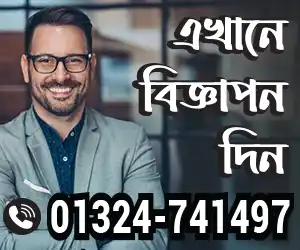 But the last 10 km it was weird! I want to state that for before we went there it rained there for almost every day, so the roads were bad and it was covered with full of mud and stones, even the 130 rear section tyre of M Slaz was slidding.
The worst part was the final 5 km, there were huge ponds on the road and when we went there we had our 2/3 of our radiator covered fully with water. It was one of the most scary part of my life.
For a moment I thought my bike's silencer will sink & will ruin my bike and tour but thankfully it didn't. Was it worth to see the beauty by doing so! YES it was worthed!
There is something in the hill tracks which me and Saleh always finds interesting & magnetic, & for some reason the sea which sings with its waves never pulls us towards it. We spend little time there as we were hurrying back as we wanted to recover that worst road fast until there are sunlight.
On our way back to hotel we stopped in a resort and the view from the window was spectacular. They are planning to start the resort soon and hopefully very soon we will come here to enjoy the epic view. We hurried back to hotel and took some rest and planned out next day tour to Bichanakandi.
Second Day at Sylhet
On day 2 we started our day very early and set off to Bichanakandi. We were joined by Tonmoy vai one of the most humble person I came to know through biking. We swap the rides and he rode on the good plain roads while I took over the bad roads.
We went through Sharighat, though that is the longest route but the scenery was epic. Due to hardcore rain most of the land besides the highway was flooded.
Upon reaching Bichanakandi we had breakfast and went for a boat tour to the heaven. Really Bangladesh is beautiful for many reasons or not!
We enjoyed the view of that area and had bath in the river. Sadly due to bad roads and lack of time we couldn't visit Panthumai but trust me next time around I won't miss it.
On our way back we came through Ratarkhul Rain Forest but on the way that road comes from Bichanakandi to Osmani Airport gave me the scare of my life.
The road was covered with mud that covered to my ankle. We found local literally digging-up the tyres of CNG to set them free.
We were badly injured in this road as it took both the mental and physical energy out. I was really surprise the way M Slaz performed on this track.
Not for a while I felt like it was a Sports bike, all through the tour it gave me a feelings of being a off-roader.
We came back that night at our hotel room early as it was raining. We were very excited for the next day as we will ride from Sylhet to Dhaka through Sreemongol but we had many problems in coming, as right from the morning we had rain and it was raining very badly.
12 Hours of Rain Wash at Sylhet
One of the big reason why we had that weather was due to the depression and the storm which was circulating alone the Bay of Bengal in the name of ROHUNA!
We went through some of the best scenery road in the country, naturally Sylhet is a green country and with this rain it just became so alive with more greenery.
We came through the roads which to our surprise was every given the fact it rained nearly for 20 days straight before we visited that place.
The rain was mild throughout the tour and we enjoyed it a lot throughout our outing, our first stop was Madhubkundo Water Fall, one of the most scenery view in Bangladesh.
From there we went to Sreemongol, our plan was to visit Lawachara Rain Forest. But the rain was so immense it happened that we cancel that plan.
So finding no way we waited 30 min in a petrol pump trying to think what to do if any, all 4 of us decided o move on with life as Dhaka was only 200 km.
Since then huge amount of rain and gustily wind came across us. The wind was so strong that, it pushed Saleh's Yamaha Fazer for slip of the track twice.
So we lower down the speed for safety. It was really raining terribly and air turbulence was so strong to keep the bike riding on the track.
From there on it was rain all the way & we keep praying that the rain lower down in its intensity but the more we ride towards Dhaka the more the intensity increases.
Finally by the grace of Almighty after crossing Bhoirob we got the first taste of DRY tarmac for over 12 km, until then we crossed over ten & half hours of wet weather riding.
Relief of 2 Hours from Rain Wash
We all reached home safely after an intriguing 12 hours ride in the rain, it was one of the most memorable ride of my life, due to the fact that it was both physically & mentally stressing for us.
I did many hardcore rides in my life but a day in the rain soaking half the day was really something off the scale. Many thanks to the 3 other riders who were there and kept things clean.
But I want to give a special thanks to my ride Yamaha M Slaz who held everything off during this time with his grip & brake. Yes I was a bit frustrated about the bike's headlight. That isn't powerful for the highway ride & lack of rear mud guard which lifted all the dirty water and threw them on my back but as a machine it was there searching & waiting for the maximum grip on the tarmac.
You might also be interested in