Suzuki Hayate 110cc Feature Review, Price, Specification 2017
Published On 16-Oct-2017 06:47am , By Saleh
Suzuki is one of the very well-known Motorcycle Companies throughout the whole world (Source). It has produced great bikes since long ago till now. It has proven its significant bike producing skills in their historical product line. One of the hidden treasures from the Suzuki Company is the Suzuki Hayate 110 which is somehow being covered by other bikes from same segment.
It has great characteristics and significance as per an 110cc bike so we thought that we should make you guys know about this bike a little more deeply, so that you can judge it as an option for your wants also. Let's check out the Suzuki Hayate 110cc Feature Review.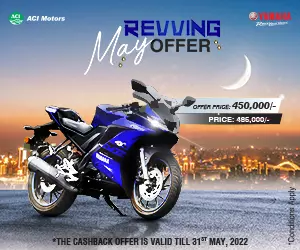 Suzuki Hayate 110cc Feature Review - Look, Design and Appearance
Suzuki Hayate has good looks as it has good looking headlamp and tail-lamp. It has slightly curved fuel tank and we can find graphical works on this fuel tank which makes it look good. Hayate is being colored by using glossy and bright paint job.
Suzuki's this model has solid black colors in the wind-shield, handle bar, rear-view glasses, wheels, engine, seat, lower parts of seat and exhaust pipe and this solid black color makes great combination with the other complimentary colors which are being used in the rest of the areas of the bike. It has looks of a standard commuting bike with trendy design. This bike full analogue speedometer but the design and various colored lighting makes it more beautiful.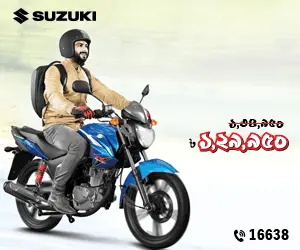 Suzuki Hayate 110cc Feature Review - Wheels, Brakes and Suspensions
As it is an 110cc bike if we expect a very high qualification then it will not be a good way to think. This bike has 70/100-17 size tubeless tire at the front and 80/100-17 size tubeless tire at the rear end which really helps the bike to deliver the bike a very efficient mileage. This bike has leading trailing drum type brake at the both end which will give the biker good and standard braking experience. Disc brakes would be a good option too.
Suzuki Hayate got telescopic, coil spring and oil damped suspension at the front and swing arm and coil spring and oil damped suspension at the rear end. These suspensions mainly make the bike to deliver hassle free and lessen the shaking of the bike while riding. It will also increase the comfort of the bike along with the long seat.


Suzuki Hayate 110cc Feature Review - Control and Balance
The handle bar position and seating position of this Suzuki Hayate is very helpful to deliver the bike a great comfort level to its rider while commuting around the city or rural areas. This also makes the controlling of the bike much easier.
Though the bike has a standard wheel size as all the other bikes of its segment, Suzuki Hayate has a prolem while riding with a pillion. If anyone rides this bike with a pillion and try to do some speeding at the highway, then the bike starts to skid and shake a lot. But, if anyone rides it alone, then, it will deliver great comfort and enjoyment to the rider of this bike.


Suzuki Hayate 110cc Feature Review - Engine and Performance
Suzuki Hayate is a 113 cc bike which has 4 strokes, single cylinder air cooled engine. This bike can create 8.7 BHP of power peak at 7500 RPM and 9.3 torque at 5000 RPM. Both electric and kick starts are exists in the Suzuki Hayate. It has capability of carrying 10 liter fuel whereas 2 liter is for reserve sector.
The Suzuki Company claims it would give 60km per liter. There are some proceedings to get the highest mileage from this bike. As like there is an option in this bike which is called economy and according to this rule if we ride the bike at 45 kmph then we will find the best mileage from it.




Suzuki Hayate 110cc Feature Review - Conclusion
Suzuki Hayate is one of the best standard 110cc bikes in Bangladesh. Those who are looking for a decent 110cc bike with a good speeding ability, durability and efficient mileage then they can choose this bike for themselves for only BDT 119,950. This bike is being shadowed due to lack ofsignificant promotional activities targeted to our country.
FAQ - Frequently Ask Question
1. Is Suzuki Japanese?
Ans- Yes. Suzuki Motor Corporation is Japanese. But now India assembly Suzuki bikes.
2. What motorbikes does Suzuki make?
Ans- Suzuki makes sports, commuter, scooter, cruiser and all kinds of bike.
3. How Suzuki popular in Bangladesh?
Ans- In Bangladesh, Suzuki bikes are most popular for their build quality and performance.
You might also be interested in