Yamaha SZ-RR V2 Review - Test Ride Report By Team BikeBD
Published On 31-Aug-2018 12:04pm , By Ashik Mahmud
Yamaha is mostly known in making premium motorcycles. We have seen those in the name of Yamaha FZS V2, Yamaha Fazer V2 & most recently Yamaha R15 V3. But most people don't know that Yamaha also make some top notch commuting motorcycle, something we have seen in Yamaha Saluto & now you will see in Team BikeBD Yamaha SZ-RR V2 Review.
Yamaha SZ-RR V2 Review - Test Ride Report By Team BikeBD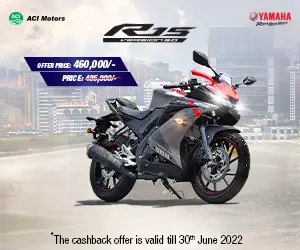 With a price tag of 185,000 BDT for the base edition while the special edition with Matt Green color the bike carries a price tag of 190,000 BDT. This is a stylish Bike in lower price segment from Yamaha. To me the bike is targeted to the people who want a stylish looking bike at affordable price at the same time good feedback of mileage.
Yamaha SZ-RR V2 Review - Engine & Performance
The bike carries the same 150cc engine which you find in Yamaha FZS FI V2 but now the fuel is supplied through carburetor. The engine produces 11.9 BHP @ 7500 RPM & 12.8 NM of Torque @ 6000 RPM. You have the option of both self & kick starter.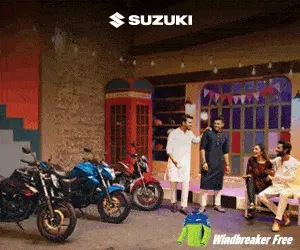 Yamaha is using Blue Core technology in this engine, which makes the riding smoother and also at the same time it helps for better fuel efficiency for the bike. During our testing we found a very profound mileage of 42 km/l in the city (under test condition) while on the highway that went up to 45 km/l (under test condition). This is not a speed machine but we managed to clock 105 kmph on the speedometer. The engine is loud at high rpm , the engine of Yamaha SZ-RR does vibrate a bit at high rpm. You can find the vibration at the handlebar & on the foot pegs once you pass 7000 RPM. The vibrations are very little and manageable at high speed ride. The acceleration of the bike is good for a commuting motorcycle.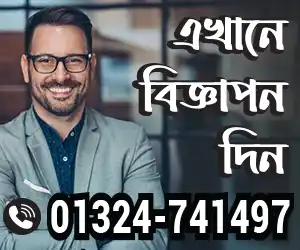 <<<<Yamaha FZS FI Test Ride Review >>>>
Yamaha SZ-RR V2 Review - FEATURE & STYLING
The bike is light, the dry weight of the bike is around 125 kg and it can carry 14 litres of fuel in its fuel tank. This is a commuting 150cc Bike from Yamaha. It has a halogen headlight with AHO facility. Speedometer is a full analog unit with rev counter, speedometer & fuel gauge. There is no trip meter on the speedometer. Switch quality is good; they carried the momentum from Yamaha FZS Fi V2. In our testing of 2000 km we found no issues with the colour & rusting on the bike. The handle bar isn't spread away and the turning radius of the bike is good. It is a slim bike which is good for riding in congested traffic and because of the good turning radius you can turn the bike in good angle.
The pillion gets a comfortable seat and also get grab rail for more comfort in long distance ride. The seats are wide & comfortable for long distance ride. I rode this bike on some bad roads in both city & on the highway & thanks to the suspension it gave no back ache to me. It gets standard saree guard & chain cover. The mud guards are well extended for maximum protection of the rider's feet to get as less muddy as possible on a wet day. Yamaha didn't made a dull motorcycle. It is muscular & has sharp edges on the side of the fuel tank as air scoop. Yamaha didn't forget to give the bike some styling.
Yamaha SZ-RR V2 Review - BRAKES & SUSPENSIONS
Up front there is a 245 mm single piston Nissin Caliper disc brake. The rear brake is drum unit. From my height I found it very comfortable, ground clearance is high too even with riding a pillion. To me the best part about the bike are its suspensions, upfront there are telescopic suspensions while on the rear there are light weight spring coil suspensions which travels 100 mm. Due to the suspension the balance of the bike stays awake even though it has 100 section rear tyres.
Thankfully they gave alloy wheels & tubeless tyres to the bike. For the first 500-600 km you will find the rear suspensions to be a bit hard but with time it will get better & once the suspensions are worked out the comfort level is sublime from them. Although this is a commuting motorcycle but Yamaha spend good time on the build quality of the motorcycle. The colour quality & finishing quality of the bike is good. I think in this price range the fit & finishing is one of the best.
<<<Click Here For Yamaha R15 V3 Test Ride Review>>>
Yamaha SZ-RR V2 Review - RIDING EXPERIENCE
Riding in city with the motorcycle is pure joy. You can ride easily in city traffic & thanks to the suspensions riding on broken roads is comfortable too even with a pillion. Also the ground clearance of the bike helps a lot. The tyre grip isn't the world's best but I do have a complain about the front disc brake. The brake feedback is good let's make no mistake about it but at this price range I would expect Yamaha to give duel piston disc brake instead of single piston. The braking balance is good for speed up to 90 km/h, anything over that you tend to lose the confidence.
Rear drum brakes give good feedback. It is hard if adjusted properly. The tyres may be thin but in city & on the highway you won't complain too much at medium speed because it will be backed up by its suspensions & chassis. With tubeless tyres you can go for a hassle free highway ride too.
You can carry good corning speed on the corners. The headlight is halogen but we would prefer a better unit of bulb for more brightness for the highway.
Yamaha SZ-RR V2 Review: PROS
Good smooth engine.
Finishing quality is good.
Fantastic suspension feedback.
Comfortable ride for both city & on the highway.
Big fuel tank for long distance ride.
Muscular design.

Yamaha SZ-RR V2 Review: CONS
Price a bit too high. (Yamaha bringing these motorcycles in Bangladesh in CBU).
Not a fan of single caliper front disc brake.
Engine not too powerful.
Fuel meter most of the time shows wrong reading.
The handle bar isn't too spread out. (This might differ from biker to biker.)
Yamaha SZ-RR V2 is a stylish affordable motorcycle from Yamaha. Asking too much performance from it would be a mistake but if I can ignore the price overall the comfort level of the motorcycle is sublime and this is for people who are looking for a motorcycle for comfortable daily commuting machine rather than speed. In this review we have GearX, Race, Nitol Insurance and Tourino Tyres as our partner.
Frequently Asked Questions:
1. Is Yamaha SZ RR a good bike?
Ans: Yamaha SZ-RR V2.0 is a really great value for money bike from Yamaha.
2. Is Yamaha SZ RR discontinued?
Ans: Yamaha SZ-RR V2.0 is available in all Yamaha showrooms.
3. What is the price of Yamaha SZ?
Ans: Yamaha SZ-RR Price In Bangladesh is 1,85,000 BDT.
5. What is the mileage of Yamaha SZ?
Ans: Yamaha SZ-RR gives out 42 kmpl of mileage in Dhaka city.
Published by Ashik Mahmud
You might also be interested in