Yamaha Bijoy Ullash Offer - 16,000 BDT CashBack
Published On 01-Dec-2020 09:45am , By Raihan Opu
ACI Motors Ltd. the official distributor of Yamaha motorcycles in Bangladesh has announced an offer for the 50th anniversary of Victory Day of Bangladesh. This offer is called the "Yamaha Bijoy Ullash" offer. It's a cashback offer and they are giving this offer on their popular sports, naked, and commuter motorcycles.
Yamaha Bijoy Ullash Offer - 16,000 BDT CashBack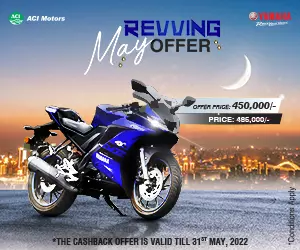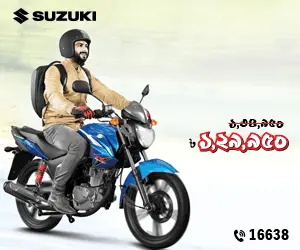 Yamaha is giving 16,000/- BDT cashback on two of their premium models. One is the popular sportbike, the Yamaha R15 V3, and the other is the younger sibling of the R15 V3, the Yamaha MT15.
Yamaha Bijoy Ullash
R15 V3 is one of the most popular sportbikes of Bangladesh and a dream to many bikers. Yamaha is giving 16,000/- BDT cashback on R15 V3 Dual Channel ABS, which originally costs 4,85,000 BDT. Other than this, the Yamaha MT, popularly known as the master of torque, is being given out at 16,000/- cashback, which originally costs 4,10,000 BDT.
Not only in sport or naked sports, but Yamaha is also giving cashback on their popular commuter Yamaha Saluto 125cc. However, in two colors there are two different cashback offers.
In the Armada Blue & Matte Green color of the Saluto 125 they are giving 4,100 BDT and in Sparky Cyan color of the Saluto 125, they are giving 3,100 BDT cashback.
The Yamaha Saluto 125 originally costs 1,29,000 BDT. Price of Saluto 125cc Sparky Cyan is 1,28,000 BDT. This offer will valid till 31sth December 2020 and you can get this offer through the authorized showroom of ACI Motors all across the country.
If we look back we can see that it has almost been over a year since the first sign of Covid 19. But in Bangladesh Covid 19 was spotted first in March 2020 and everything locked-down immediately after that.
After the lockdown, every office and facility slowly regained traction, but the risk of the virus continues to increase day by day. So experts have been suggesting that citizens use their personal vehicles for travel or commute.
But the problem is that cars are expensive, while cycling is exhausting and quite unsafe on city roads. So the next best option is and always has been motorcycles.
Nowadays buying a motorcycle is slowly becoming a necessity day by day, especially for people living in Dhaka and other major cities in Bangladesh. Yamaha Bijoy Ullash cashback offer helps a biker buy their desired sports, naked and/or commuter bikes.
You might also be interested in