Haojue TR 150 Test Ride Review - Team BikeBD
Last updated on 05-Oct-2023 , By Arif Raihan Opu
Haojue has been for quiet sometime in Bangladesh, you can understand that it is one of the best Chinese motorcycle brands in Bangladesh. In the past we reviewed their naked sports commuter.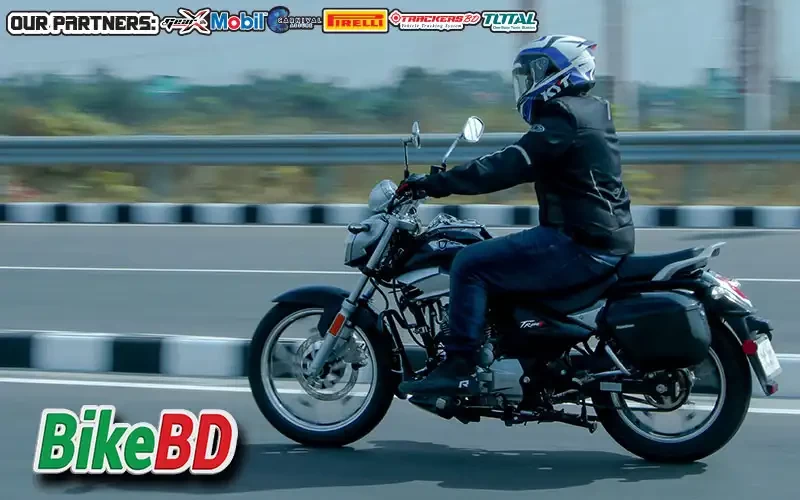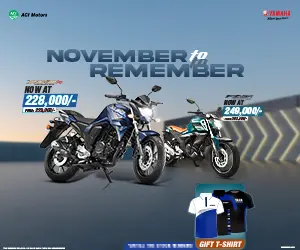 Haojue DR160, then we reviewed their commuting 135cc motorcycle Haojue KA135 not lets talk in details about the Test Ride Review of Haojue TR 150.
Haojue TR 150 Test Ride Review
The bike has a cruiser like design, styling & ergonomics. Just like most cruiser bike the front end of the bike is naked & bold with a nice shaped halogen headlight over which there is a round speedometer.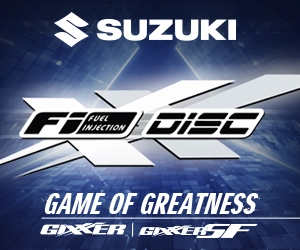 The bike has raised handlebar which is very comfortable to sit on & with the legs moving forward the bike will give the impression of a true cruiser bike. I loved how they gave the chrome plating on the rear view mirror.
Also Read: M/S MAISHA ENTERPRISE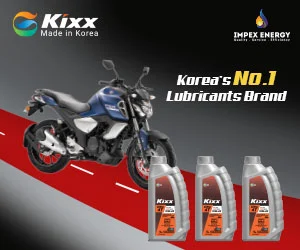 The speedometer only displays analog speed & a digital gear change indictor. The fuel tank is bold and big, it is unique design with a full metal fuel tank. On the fuel tank they have a digital fuel gauge & a digital odometer. It is a bit odd place to have that but it is unique mostly available in cruiser bikes.
Both the rider & pillion seat is spacious & comfortable. Footrest is low & there is a wider grabrail. One of the best thing in this bike is a detachable saddle boxes on both sides of the bike which is very good to carry things like rain coat, bike's documents & other things which usually we carry in our bag while going to office or other places.
They gave side panels, underbelly pan, bloated exhaust & exposed V Tail which boldly matches with it's overall design. The silver finishes beside the glossy panels, alloy rims altogether gave a macho look to the bike.
They gave the bike a cradle frame, it comes with dedicate setup on the wheel. The wheels has 10 spoke glazy alloy rims, the tires are tubeless type & have 90 section front tyre with a 110 section rear tyre with a 18 inch rim on the front tyre with 16 inche on the rear.
Also Read: Haojue TR 150 price in BD
The bike features 270mm front hydraulic disc brake in the front with a rear drum brake setup. It has conventional cruiser like front telescopic suspensions system while it carries a spring loaded double rear suspensions.
Haojue TR150 comes with a 150cc air cooling engine with a carburetor fuel feeding system. The engine produces 12.5 BHP & 11.4 NM of Torque which it transfers to the rear wheel through a 5 speed gearbox.
Haojue developed a high efficient TSR engine which not only give smooth power delivery but also helps to reduce vibration on the engine at normal operating range.
Click To See Haojue TR 150 Test Ride Review
The engine is very smooth; you will only find vibrations from it when you REV it at high RPM. Sadly as there isn't any REV counter to the bike so we can't state the actual RPM but in terms of speed we can say that at around a speed of 70-80 kmph you will find the vibrations from the footpeg of the bike.
The bike weighs 145 kg which is high but for a cruiser bike which has many metal chrome plating is nothing out of the ordinary. The riding seat both for the pillion & rider is very comfortable, backed it up with the suspensions.
Ground clearance of the bike isn't the worlds best, if you have an adult pillion then you will hit the underside of the bike on speed breakers in Dhaka. In congested traffic of Dhaka city it isn't the best bike to go through small gaps in the traffic.
The turning radius is high which something a characteristic of cruiser bikes is. You need lots of space to turn around & also due to having saddle boxes on it's side you will feel that you won't be able to go through small gaps easily without kissing the other driver.
Also Read: Haojue DR 160 price in BD
The suspensions are soft, so for the bumpy roads it isn't an issue for it to ride nor on the bad broken roads you will have any hassle to ride now the thing is if you have a pillion the ride is good & sublime but when you go over any speed breakers you will have the under belly of the bike to hit it hard.
Braking of the bike is sufficient for riding both in city & on the highway, given this is a bike which people won't use it to out dragged sports commuting bikes on road but if you ride at a moderate speed of 80 kmph then the brakes gives very good feedback.
For emergency braking for speed over 100 kmph the bike don't have best of braking system. The handling capability of the bike is very good, due to the weight & the design you can feel that the bike is glued on the road but I think that the front tyre needed to have better grip in the wet, if you are not careful with it then the bike will slide around a lot.
The build quality & the colour quality of the bike is fine, I have no such complains about it, neither I have complain about the comfort of the bike but it will be better if they could fit the bike a more powerful headlight which will help to ride at night time with more confidence.
This bike are not for people who has a height for over 6 feet & people might think that due to the boxes it will be a bit uneasy to sit on the pillion seat but truth to be told it isn't an issue at all to ride on the highway or in city.
Also Read: Haojue DR 160 8000KM User Review
The engine is responsive; you can accelerate very fast from 0-60 kmph. After that the bike starts to struggle due to the weight and not having a good aero package as it is a cruiser bike. You can still the lean the bike at medium & slow speed corners but it is not preferable to try that at high speed corners.
Haojue TR 150 - MILEAGE & SPEED
Top speed: 110 kmph
Mileage: 32-35 kmpl in Dhaka city & 38 kmpl on the highway.
Haojue TR 150 PROS:
Handling
Build quality
Colour quality
Braking at medium speed
Saddle box very helpful
Comfortable suspensions.
Haojue TR 150 CONS:
Needed powerful headlight
Mileage figure is a bit disappointing
Not a SPEED machine, although people who will buy it won't care about it at all
Not good in sharp turning
It is a bit heavy bike
If You want to Find Haojue Bike price in Bangladesh and Haojue Bike showroom near you visit BikeBD.Com. Stay with us for more update motorcycle news.
Published by Arif Raihan Opu
You might also be interested in