Yamaha Saluto Test Ride Review By Team BikeBD
Published On 03-Jun-2017 07:52am , By Saleh
Testing a 125cc commuter bike in parallel with a 150cc water-cooled EFI machine truly helps for a better assessment and capability test of the bike. Whatever after the Yamaha Saluto Feature Review here is our Yamaha Saluto Test Ride Review By Team BikeBD. Our team just has completed the test ride of Yamaha Saluto. Therefore here we are enclosing the detail of the bike. Let's head in.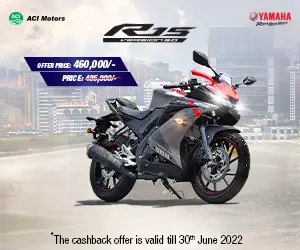 Yamaha Saluto Test Ride Review By Team BikeBD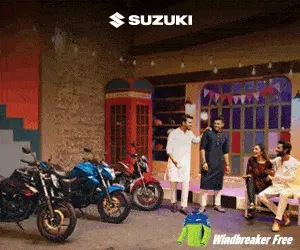 Yamaha Saluto Test Ride Review - Overview
After the Yamaha Saluto feature review we the BikeBD were too much interested about the features added with this bike. Saluto is the newcomer in our commuter motorcycle market where it tagged for attractive commuting features.
Especially the power, comfort and significant mileage; this composition made us to rush for thorough test ride of the bike. After 2500km of test ride ending with a furious 1230km of highway test in parallel with another 150cc sports bike we are now confident enough to say something about the capability of this bike.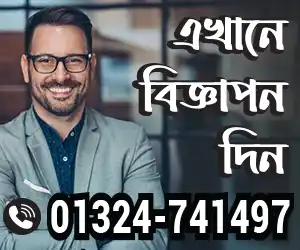 Moreover in our hills commuter motorcycle has a big demand. In the hills they demands for the extreme capability of a commuter. So that was also in our concern of testing.
Therefore we did capability test and mileage test on the hill track riding with bulky belly pillions. In the mean time there was another 150cc water cooled bike under our testing we have mentioned earlier. Therefore testing Yamaha Saluto in parallel that got something different dimension in this test session.
Yamaha Saluto Test Ride Review - Build Quality
Testing Yamaha Saluto the power, comfort and mileage this three core feature was our core concern. Moreover basic things like build quality and finishing was another concern of assessment in terms of appeal, faith and reliability. As it is branded Yamaha, so nothing found unusual or less than their quality standard.
Here the panel plastic and metal parts of Yamaha Saluto found usually in good quality. The significant extra part of a commuter like the chain cover, sharee guard and leg guard are also made ensuring very good quality.
So we just enjoyed completely silent ride all over our test ride period. And we did not hear any single noise of loose contact from any part of the panel even rushing over the odd tracks.
The paint job and sticker work is excellence on the plastic panels. The core metal part especially the engine block and housing finishing quality also is up to the mark. Moreover switches and console also caries the sign of quality making.
During our test ride period we got the opportunity of close observation of the exteriors. And we are happy with the build quality of Yamaha Saluto.
Yamaha Saluto Test Ride Review - Control & Comfort
Commuter motorcycles are basically designed for all kind and age of motorcycle user. So easy controllability is a common and significant issue for a commuter motorcycle. Moreover comfort is another core issue as commuter motorcycle used for commuting on all kind of terrain.
Therefore commuter category motorcycle needed to be featured and capable with good controlling and comfort feature. So for the Yamaha Saluto test ride review those were vital testing issue for us.
In the busy city road it was nice experience moving comparatively easy and effortless with its upright handlebar. Its wider angle of steering allowed us very easy turning even in congested place and with in tight traffic.
The upright riding position, seat, handlebar and control levers all are set in perfect sequence. So riding on highway for prolonged time it felt no fatigue or pain on wrist, shoulder or even backbone. The seat is really enough spacious and it is comfortable.
Both the rear and front suspensions are also good and very responsive. After struggling in break-in time while we rushed for stressful highway and hill track test the suspension released its rigidity. It started playing frequently and responded fast on bumps.
Brakes are also did their job nicely even from the Zero kilometer of its age. Front disk brake assembly is single piston NISSIN clipper and rear one is drum type. Both are really capable in city, highway and on hill. But rear one is little less effective than the front one. Other than we are happy with its brakes.
The both tubeless tires are thin in width. But they have very good grip both on wet & dry surface. Not a single time it skidded even rushing on tight corners with heavy pillion. So definitely no complain on those.
Yamaha Saluto Test Ride Review - Power & Acceleration
Power, comfort and mileage are the core feature of being a good commuter you know. So this was our priority to test those feature of Saluto. Saluto's 125cc air-cooled SOHC engine easily produces 8.3PS of power and 10.1NM of torque which is quite common for commuter. Here no need to mention as that is quite enough for a commuter.
But the significant thing we found with this Blue Core engine that is power delivery and acceleration. Its power delivery is very smooth, sequential and raw. Within its delivery range you will feel a thrust.
The top speed we gained maximum of 105kmph which is comparatively low. But significance is very easily effortlessly you can gain 95kmph even against huge pressure of cross wind. Significantly we got the acceleration equally up to 85kmph even with heavy pillion.
The acceleration and power delivery we never felt missing even riding in hill with pillion. So what more we can expect from a commuter over this notable performance even on hill. So we are happy enough with that performance.
To be frank and specific the riding of Saluto was not so smooth first time within its break-in period. It was very usual and boring like other commuter bike. But just after the first draining of the engine oil the engine character started to change. That time the lower RPM and lower gear operation was hedgy and found vibration but higher gear and RPM operation got smoother.
Afterward while testing after second draining of engine oil at the age of 1200km and air filter cleaning the engine character just changed dramatically. Saluto literary surprised us with its smooth running in all RPM and gears. Even harsh accelerating and gear changing it didn't felt any vibration. It was quite, silent, free and it was awesome.
Yamaha Saluto Test Ride Review - Mileage
Theoretically being 125cc engine a bike can easily gain significant amount of power but mileage?! Yes Yamaha Saluto is featured for significant figure of mileage though it comes with 125cc engine.
The company claims as 78kmpl of mileage under standard testing condition. So getting the test ride of this mileage king in 125cc segment we felt our responsibility to test its mileage. And for that we considered three different road conditions.
We tested the bike mileage on the city, straight highway, and carrying heavy belly pillion on the hill track with rough twisting the throttle. The result we got that was different in figure under different riding condition.
On smooth riding on highway it gave us around 70kmpl. On the city it gave the figure over 60kmpl. The lowest figure we got with harsh riding with heavy pillion on hill that is 52kmpl. So you can understand how dedicated the bike is for mileage.
When testing for Saluto's mileage taking fuel with a 250ml bottle we noted some issues. It burnt fuel fast within the first few kilometers like 4-6 kilometers and afterward consecutively the consumption reduced.
So it seems if we considered a properly hot and prepared engine to be tested with full 1 liter bottle of fuel it might resulted higher figure. Whatsoever the detail of mileage test coming soon with our video review, have patience!
Yamaha Saluto Test Ride Review - Pro & Cons
Yamaha Saluto test ride allowed us to monitor closely the bike for dragging out its capability and weaknesses. Considering our test ride of over 2500km we have noted some advancement and weaknesses of this bike. Here bellow those are in bullet.
Yamaha Saluto Advancement
Powerful and smooth engine operation at all RPM within its operating range.
It gives a thrust feeling of acceleration within its speed range.
Significant mileage even on hill track.
Very tight pack and good combination of power, mileage and comfort.
Good build quality even the minimal body parts.
Sleek and smart design.
Very good and responsive suspension, brake & tire.
Large, wide and comfortable seat.
Good ground clearance.
Very much stable even in stressful riding condition.
Wider angle of steering movement
Wide focused and powerful headlamp.
Yamaha Saluto Weakness
Handlebar is narrower in width though it's good for city ride.
Riding in break-in period engine, suspension rigidity all together it's not so pleasant. It's too rigid in break-in period.
Headlamp high and low beam deviation is not perfect but it is powerful.
Headlamp AC operated.
Wind shield before the odo console is very small to protect the wind pressure on highway.
Rear brake is comparatively less responsive.
Fuel tank capacity is very low.
Top speed of the bike is quite low comparatively its 125cc engine.
There is no rev counter on its ODO.
Fuel gauge shows wrong reading.
Control switches on handle bar are good in quality but not set in perfect position. The size of the switches is not standard. Very often rider need to search those blindly while riding. It needs to be habituated.
Yamaha Saluto Test Ride Review - Sum Up
So readers after disclosing all the test result for the Yamaha Saluto test ride review here we are before finishing line. Analyzing all the data we shared here you may find Saluto is a well balanced and tight-packed commuter.
We really so much surprised and sometime searched for if we are biased. But reviewing all the test results again and again we found it really a nice and capable bike which has very minimal weak points. It's definitely a good commuter no doubt and definitely you can rely on it.
So guys here are all about our Yamaha Saluto Test Ride Review by Team BikeBD. If you have any query or confusion on any issue on Saluto feel free to ask. Therefore if you really want to be more confident please get a test ride of Yamaha Saluto from ACI Motors Limited. We are sure you will be happily convinced. Therefore stay tuned with us. We are coming soon with more twists. Thank you all.
For further updates keep visiting our website and subscribe to our BikeBD Youtube channel, also stay connected to our BikeBD Facebook Fanpage. To see the details of Yamaha Bike prices in Bangladesh and the Yamaha showroom addresses near to you visit BikeBD.Com.
Useful Article You May Like
You might also be interested in