Yamaha New Year Bash Offer - Cashback On R15 & MT15!
Published On 02-Jan-2021 01:06pm , By Ashik Mahmud
New Year 2021 starts with a new beginning as Yamaha brings you the New Year Bash Offer 2021. In this offer, Yamaha is giving cashback on their popular motorcycles such as the Yamaha R15 V3 and Yamaha MT15.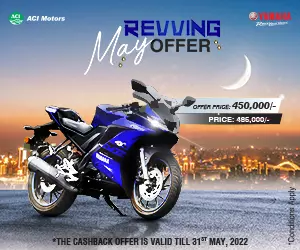 New Year Bash Offer 2021
Yamaha R15 V3 is a popular sports bike in Bangladesh and one of the most desired motorcycles of many. Yamaha is giving 10,000 BDT cashback on this motorcycle.
The R15 v3 is equipped with dual-channel ABS, front telescopic suspensions, powerful engine & many other features. After cashback, the price of this Yamaha R15 V3 Dual Channel ABS is 4,75,000 BDT.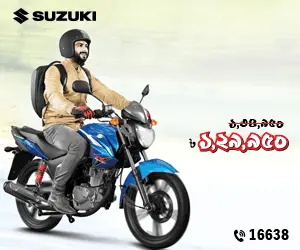 Click To See Yamaha R15 V3 Indian Version Dual ABS
MT15 is a naked sports bike that Yamaha claims to be the master of torque. This bike has a very aggressive front appearance. Bikers get attracted by simply taking a look at this bike.
The performance of this bike is also top-notch and Yamaha is giving 10,000 BDT cashback on this bike. After the cashback, the price of the Yamaha MT15 comes down to 4,00,000 BDT.
Way To The Longest Sea Beach In The World With Yamaha MT 15
The 125cc segment is for those who are conscious about mileage, power, and maybe style, they can find the Yamaha Saluto 125cc. This is one of those bike which no one can deny about performance and style.
Yamaha is giving 4,100 BDT cashback on this bike also. This Yamaha New Year Bash Offer 2021 will continue throughout the entire month of January. That means from 1st January to 31st January this offer will be valid and it can be availed from any authorized showroom of Yamaha motorcycles all across the country.
Now Yamaha joins the offer game from the beginning of 2021, lets see what happens this year. Yamaha New Year Bash Offer will help the bikers to get their desired sports bike. Motorcycle manufacturers are bringing down prices of their bikes by providing offers or by other means always help bikers achieve their dreams and necessities. If You want to Find Yamaha Bike price in Bangladesh visit Our Website. Stay with us for more update motorcycle news. Thank you all.
Published by Ashik Mahmud
You might also be interested in