Yamaha EID Cashback Offer For EID Ul Adha!
Published On 24-Jul-2019 06:02pm , By Raihan Opu
ACI Motors has declared the
Yamaha EID Cashback Offer
for the Eid Ul Adha of 2019. Yamaha Motorcycles Bangladesh already had an
Offer in place for the month of July
but now they have extended this offer till 11th of August! They also have an additional discount for students.
Yamaha Motorcycles Bangladesh - ACI Motors Ltd. is giving away up to 15 thousand BDT discount of different models. They are giving away a base discount from 5,000 BDT up to 12,073 BDT. Moreover, on Yamaha R15 V3 editions and Yamaha FZs/FZ Version 3, they are giving away an additional 5,000 BDT for students. If any University students purchase Yamaha R15 V3 Indonesian or Indian version or Yamaha FZ V3 or FZS V3 and register the bike in their own name, he or she will receive an additional instant discount of BDT 5,000.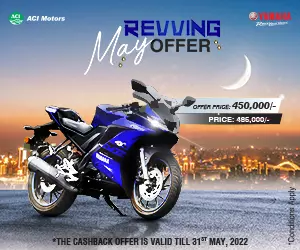 The biggest attraction on this Eid Cashback Offer is the discount of Yamaha FZs V2 Single-Disc Edition. ACI Motors is giving away BDT 12,073 cashback or 2 years of free registration on this model, while the FZ & FZS Version 3 has a flat discount of BDT 7,000 with an additional discount of BDT 5,000 for students.
Yamaha Saluto 125 and Saluto Special Edition both get a cashback offer of BDT 6,037, while Fazer FI and Ray-ZR has a flat discount of BDT 5,000 on their current price. Yamaha R15 V3 is currently one of the most expensive bikes in the segment, and ACI Motors is giving away BDT 10,000 Discount on both the Indonesian Edition and the Indian Edition. Also, students will get an additional BDT 5,000 Cashback during the purchase of the bike. This
Yamaha Eid Cashback Offer will go on till 11th August, 2019
and it is applicable to
All Yamaha Showrooms In Bangladesh!
Yamaha Eid Cashback Offer For Eid Ul Adha is a really interesting offer for anyone who is interested in buying a new motorcycle this season. Hopefully, this will help Yamaha lovers buy their desired motorcycle.
You might also be interested in