r15 v3 vs v2 difference
Last updated on 14-Aug-2022 , By imran
You might be wondering why I am talking about Yamaha R15 in this post. Yes, the R15 is one of the most powerful motorcycles ever produced by Yamaha. This makes it the most desirable model in the R15 line. The V2 model is a bit cheaper than the V3 model. However, the V2 model doesn't have any additional features. You can consider the V3 model to be the perfect model. It has all the features you would want in a motorcycle. You can check out the full specs of both the yamaha r15 v3 and the yamaha r15 v2 model below.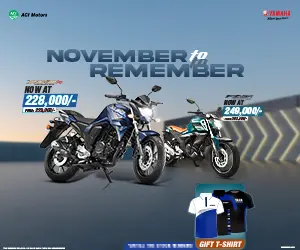 R15 v3 vs R15 v2 Comparison Table :
R15 v3 vs R15 v2 Price
r15 v3 Price is 475,000 BDT
r15 v2 is Not available in Bangladesh.
R15 v3 vs R15 v2 Mileage
r15 v3 Mileage is 40 Kmpl (Approx)
r15 v2 Mileage is 40 Kmpl (Approx)
R15 v3 vs R15 v2 Engine
r15 v3 Engine is Liquid-Cooled, 4-Stroke, SOHC, 4-Valve
r15 v2 Engine is 4 – Stroke Single Cylinder
R15 v3 vs R15 v2 Top speed
r15 v3 Top speed is 140 Kmph (Approx)
r15 v2 Top speed is 130 Kmph (Approx)
R15 v3 Pros & cons :
R15 v2 Pros & cons :
R15 v3 vs R15 v2 which is better (Editor Choice) ?
R15 V3 uses better tires when compared to the present version. The front measures 100/80-17 while the rear used on V3 is massive 140/70-17. This adds more traction to R15 as a newly developed high-performance engine sends much more power to the rear wheel in comparison to the old version.
Watch Videos:
R15 v3 some useful videos:
R15 v2 some useful videos:


R15 v3 FAQs :
1. What is the gear shift pattern of Yamaha R15 V3?
Ans. YAMAHA R15 V3 has a 6-speed manual transmission with wet sump multi-plate clutch which is arranged in a reversible manner and equipped with a slipper clutch for easy shifts on demand. The pattern is: 1-N-2-3-4-5-6
2. What is the mileage of Yamaha R15 V3?
Ans. The company-claimed mileage of the regular Yamaha R15 V3 is 40 kmpl and it delivers almost incredibly close to that figure as per many customers' claims. The aid in this type of efficiency are the FI and VVA technology used in this bike.
3. Is Yamaha R15 V3 good for long rides?
Ans. Yes, for the rider mostly. The Yamaha R15 V3 is really good for highway rides. It has a dependable setup in terms of ergonomics and on top of all of these, it has a good, constant performance on the highways… So, it is very much doable to take this bike for long rides on the highways. There are many bikers who do long rides with this bike for a long time. But the catch is, for many riders, the seating posture is not that great considering the high saddle and the positioning of the handlebars which gives some aches in the palms of the rider on the very first rides. However, this becomes almost a non-issue for regular users. The bike is meant for solo rides though as the pillion seat is not comfortable or equipped enough for support for long-duration rides.
4. Are there any different versions of this bike?
Ans. Yes. The Yamaha R15 V3 has different variants in Bangladesh. There is a Yamaha R15 V3. An Indonesian version is also available in this country with some tweaks.
5. Does R15 V3 cause back pain?
Ans- You need to have a correct posture while riding.
Arms should always be bent at the elbows. Upper body should be loose and not stiffened up, else all undulations/bumps will travel through your body causing pain and aches. You shouldn't grip the handlebars too tightly. This increases fatigue on wrists, arms, shoulders. Additionally, Don't even consider going for softer seats instead of stock ones. This will cause more lower back pain on long rides. Is okay strictly for short commutes only.
You can opt for back supports which are available online if needed. This is applicable to all motorcycles with a bias to sporty ergonomics. Not just the r15.
6. What are the disadvantages of R15 V3?
Ans- Yamaha R15 V3 is an awesome bike. But all the bikes have advantages and disadvantages. Yamaha R15 V3 Disadvantages are like-
Sporty seating not suitable for daily commutes.
Stiff ride quality.
Expensive.
7. Is R15 V3 good for daily use?
Ans- Yes, it is. The mileage on the r15 is good and it's a fun bike to ride. Also it doesn't have any heating issues. It's perfect for city commuting.
8. What are the advantages of R15 V3?
Ans- Yamaha R15 V3 is an awesome bike. But all the bikes have advantages and disadvantages. Yamaha R15 V3 advantages are like
Outstanding design and look.
Variable Valve Actuation (VVA)
Slipper Clutch
Exceptional Top speed and mileage performance
Feature packed Digital Console
Wide Tyres
9. Is R15 V3 high maintenance?
Ans- Yamaha R15 V3 maintenance cost is around 1000 per servicing. The average depends upon your riding style. If you drive your bike economically then you will get an average of almost 40+ but if you drive too rash then you will get below 25. And maintenance cost is around 1000 per servicing.
R15 v2 FAQs :
1. Is R15 V2 still available?
Ans- Yamaha has decided to discontinue the R15 V2. 0.
2. Is R15 V2 good for long rides?
Ans- The Yamaha YZF-R15 is undoubtedly a bike meant for keen riders out there. When one factors the dynamics it has to offer, the R15 does look low on horsepower. The insane level of feedback from every input never makes you feel lonely on long rides.
3. How many cc is Yamaha R15 V2?
Ans- Yamaha YZF-R15 Version 2.0 has been installed with a 149.8cc, liquid-cooled, 4-stroke, SOHC, 4-valve, single-cylinder engine.
4. Is Yamaha a Japanese Brand?
Ans- Yes! Yamaha is a Japanese brand.
Motorcycle is a great thing, especially for the person who loves adventure. People mostly prefer to ride the motorbike rather than driving the car because it is more adventurous and fun. But, it is important to choose the right motorcycle if you are going to buy one. So, now you know the difference between both the bikes and you can easily choose the bike that suits you the most.
If you want to know about yamaha bike price in bangladesh and yamaha showroom near you visit our website. Also you can see all bike price in bd here. Thanks everyone
I'm Imran Hossain. I'm certified Digital Marketer. I just Love to writing . I like to work in a team that is cooperative and helpful.
You might also be interested in