Pulsar Stunt Fest - Stunt Show, Free Services, & More!
Published On 13-Nov-2018 04:55pm , By Ashik Mahmud
Bajaj motorcycle Bangladesh has arranged Pulsar Stunt Fest & Service Camp in different locations in Bangladesh. The sole purpose of this event is to promote their bikes and also to service and thank the existing customers.
Pulsar Stunt Fest was first held in 10.11.2018, in Mohammdapur, Dhaka. Pulsar Stunt Fest will take place in various other places too, like Chittagong, Jessore, and more. Pulsar Stunt Fest is a wonderful program which is based on the Pulsar series – and the event is for all the bike enthusiasts in Bangladesh!
The most interesting bits of the event is Stunt show by Haunt Ryderz, and free service camp for all Bajaj motorcycles. There is also product display, bike exchange facility, game show and raffle draw where the winners will get attractive gifts and prizes from Bajaj Motorcycles Bangladesh!
Pulsar Stunt Fest – Bikes
Haunt Ryderz performed and will perform in Pulsar Stunt Fest. The Bikes they used is the new Bajaj Pulsar 150 Twin Disc and Bajaj Pulsar NS160. Bajaj Pulsar NS160 is one of the most popular 160cc motorcycle currently in Bangladesh. With the perimeter frame and tremendous suspensions, it is really a great choice for stunt. Click Here To See Bajaj Pulsar NS160 Test Ride Review. The other bike they used is the latest variant of Bajaj Pulsar 150 dtsi. This bike has a completely new chassis, better suspension, twin disc brakes, and engine. Pulsar 150 dtsi has been the most sold 150cc motorcycle not only in Bangladesh but also in this region. Click Here to see the first impression review of Bajaj Pulsar 150 Twin Disc Edition.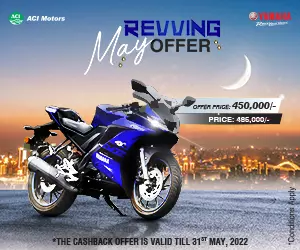 Pulsar Stunt Fest- Locations
Chittagong, CRB – 17th November Dhaka, Aftabnagar – 24th November Sylhet City – 1st December Jessore City – 8th December Khulna City – 15th December
It is great to see popular motorcycle companies promote their brands in new ways and also give the motorcycle enthusiasts a good event, and good services. We wish all the best for Pulsar Stunt Fest and also invite everyone to be a part of this great event.
Published by Ashik Mahmud
You might also be interested in