Motorcycle Riding Training Event For Female Riders By ACI Motors
Published On 23-May-2017 02:15pm , By Saleh
ACI Motors Ltd held a Motorcycle Riding Training event for female riders at Purbachol Express highway (300 feet road) on 20th May 2017. Main purpose of the event was to encourage potential Female Bikers in Bangladesh to learn to ride motorcycles as many of them are regularly harassed while travelling by public transport.
The program was attended by good numbers of female riders. The program was launch through the hand of Mr. Subrata Ranjan Das (CBO of ACI Motors). There were also other officials from ACI Motors.
https://www.youtube.com/watch?v=zHgBeuMbgFE
During the full day event 23 female riders came to learn to ride motorcycles, around 3-4 of them can ride bicycle but the rest are completely new on two wheels. Neither have they had any experience on scooters. ACI Motors provided 4 Yamaha Saluto for the training event.
All the female candidates were bought to the event by bus which was provided by ACI Motors from their head office at Tejgaon as Purbachol Express Highway is at an unusual place in the middle of nowhere & getting there is difficult if you don't have any personal transport.
There were supports from Yamaha officials but the training session was helped out by 4 female riders: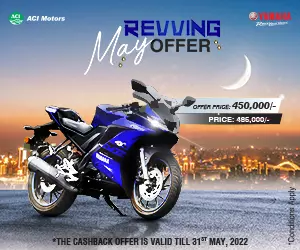 Tina Chakma : Dhaka Territory Manager for ACI Motors Ltd.
Maliha Mustafa
Ripa Chakma
Lamiya Hasan.
It was nice to see that even though most of the riders were new on two wheels ACI Motors took the initiative to perform the training session with the maximum amount of safety. For that they ran the program on an open field with all the female riders who came to learn riding a motorcycle were provided with helmet & safety guard during their training session to support their head, elbow & knees in case of worst case scenario.
Many of the female riders who came were successful in learning to ride a motorbike. Though one day training is not enough but they at least got to learn the basic of a motorcycle ride. ACI Motors promised that they will do more programs like this where they will help to train female riders to learn to ride a motorcycle.
These days' lots of female goes to office or universities through public transport but in doing so they have very less opportunity to reach their destination with no harassment. It is quiet difficult for them to fight, run & get on the bus during office hours.
Few female riders are now changing their mind in owning a scooter to carry out their daily commuting & it will a good initiative that more motorcycle/scooter companies to come forward in the future to arrange Motorcycle Riding Training event for female riders like ACI Motors did.
You might also be interested in