Test Ride: Keeway RKS150 Sports Review By Team BikeBD
Published On 08-Sep-2016 06:07am , By Saleh
Tail end of December last year Speeodoz Ltd launched a bike in the name of Keeway RKS150 Sports, back then I was given a chance to test it for few number of kilometers and today we will present you the test ride review of Keeway RKS150 Sports. So here is Keeway RKS150 Sports Review By Team BikeBD after testing the bike for 1200 km.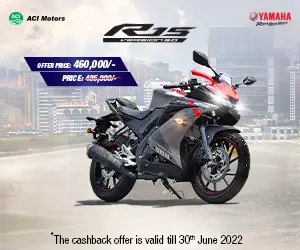 Speedoz Ltd are the sole distributor of Keeway motorcycles in Bangladesh, last year we tested Keeway RKS125 & you can click the following link to know more about that review. RKS150 was launched because there were some complains about RKV150 which was a big bike and was heavy with flat tyres and it was unofficially the first mass sold bike to come out with inverse shock absorber in the 150cc segment.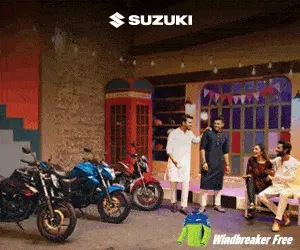 Keeway makes bikes from 50cc to 600cc; in Bangladesh we get 100-150cc bikes from the company. Keeway motorcycle has a team of young energetic designers from Italy and Argentina,
With its success worldwide, Keeway became part of the QianJiang Motor Company of China group, one of the most important manufacturers in Asia. QJ has become the most successful European brand in China and other countries, after the acquisition, in 1998, of a majority shareholding of the Italian company, Benelli. Benelli has 105 years of history, being enormously important in Europe. Benelli is currently involve in the design of Keeway motorcycles in China.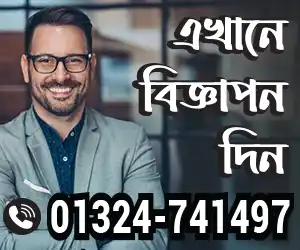 Keeway RKS150 Sports Features:
At first glance you will feel that the bike looks somewhat like KTM Duke from the front, the headlight of the bike is small but stylish. Fuel tank of the bike is huge & holds round about 16+ litre of fuel.
There are saree guard & leg guard as standard. The handle bar is wide spread & the turning radius of the bike is good. Switch gears are off good quality with pass light and engine kill switch as standard.
Speedometer has an analog rev counter with a digital speedometer alone with a digital fuel indicator. With other basic warning lights the bike features gear indicator and clock. There is a kicker with the bike.
Seating position is upright and more like commuting bike, it has long & wide seat for both the rider and pillion to seat comfortably for long distance ride. The rear grab rail is good enough for the pillion to balance himself or herself.
On the side of the fuel tank there are two air scoops on both side and a mud gurad for the engine. The paint and finished quality of the bike is good, there are few complains about it. You have under seat carrying clamp for making the bike double stand.
Over all the bike bikes looks cool but there are some features which aren't the best, chief of which is that called the bike sports but they kept old style feet & toe gear change option, something which is good for your shoes but doesn't go with the style & then there is the biggest disadvantage of them all, tube tyres & no rear disc brake.
Both the front and rear tyres are flat enough for high speed corning but because they are not tubeless tyres the air pressure moves in the tube. With 120 rear section tyres the bike has one of the flat tyres among its standard & on the corners and on wet roads it does help you to find good grip.
Though the bike has front disc brake they kept no option for the rears hence the rear brakes are drum, though I don't have any complains about the braking of the bike but given the price they should have had a rear disc brake.
Headlight of the bike could have been more powerful but the angle difference between high beam and low beam is way too much but luckily this bike has a headlight adjuster which currently no other bike in Bangladesh have, where with the help of a knob you can adjust the headlight angle on the road even at riding at 80 km/h.
Tail light is LED type with a comfortable rear grab rail for the pillion to sit comfortably. Both the rider and pillion seat are comfortable for long distance ride. If you go on a tour alone there is enough space for your bag on the rear seat if you think of strapping a saddle bag.
But I think in terms of safety issue there are two things to be noted, firstly the bike I tested the side stand was very straight positioned hence while at parking if someone wobble it might fall on the other side and secondly the neck lock is actually on the neck of the bike hence if you are on a hurry then you might forget it and put the ignition and start the bike and will roll away until you realize and if might create a small accident.
Keeway RKS150 Sports ENGINE & TRANSMISSION:
RKS150 Sports has a new 150cc air cooled engine which gives out 14.0 BHP & 12.8 NM of Torque, the bike features a 5 speed gearbox and because it weighs just 129 kg off the line it is one of the fastest accelerating motorcycle currently in the market.
The noise of the engine is different it will make you feel like there is something loose in the bike but in reality there aren't any such things like that. Ignition of the bike is TLI with carburetor engine.
As we have tested only for 1200 km but we can state during those time we didn't face any problem with the bike's engine expect for the fact that during the first 400 km until the first oil change the mileage we were getting were less but later the mileage became better once we tuned the engine.
Gearbox of the bike is smooth and there isn't too much complain about it but you need to have the best clutch setup to get the maximum out of the engine, if wrongly setup then the rear tyre will spin and hence you will lose the efficiency of both power and mileage.
Keeway RKS150 Sports BRAKES & SUSPENION:
The front suspension is telescopic & travels 110mm. sadly they didn't have any inverse shock unlike RKV150. Unlike RKS150 there are not inverse shock in this bike which is sad but the suspension they gave in both front and rears actually works properly and the brakes too.
Suspension geometry of the bike is good, the rear suspension actually works so are the front and despite the mono shock rear suspension is slightly positioned on the right hand side upsetting the balance in theory but on the road on high speed corning or at emergency braking it creates no issues on the bike. ty of the bike.
Though I must say that it will take a while for both the suspension and brake to work into operating condition but once you pass the brake in period you will have the full fun of both of it.
Keeway RKS150 Sports TYRES & GRIP:
Front tyre are 90/90 while the rears are 120/80, both of the tyres gives very good wet weather and dry weather grip. It is though advice that because the rear tyre has drum brake so it is very important that you make sure that the rear brake is adjusted, if the rear brake is adjusted too hard then on emergency braking it will lock the rear wheels hence will cause major issues.
Worst thing about the tyres is that those are not TUBELESS! Even I have to ask why? Still I haven't got any answered from Keeway (China) but they did say that their future models will have tubeless tyres for maximum safety.
Keeway RKS150 Sports Riding Experience:
I have to admit that initial experience weren't the best as first the bike used to have lots of wheel spin due to the fact that clutch was wrongly setup, you also have a front gear setup lever where you can setup the front disc brake pressure into 4 manual setting something which helps in heavy traffic in Dhaka city.
In the city the bike is good to ride with longer wheelbase but the turning circle is good, under braking the bike is stable & there is vibration at high rpm. But you need to have the correct air pressure and rear brake setting for maximum braking efficiency.
The bike is fantastic for high speed corning but I think due to the tube tyre it wobbles a small bit but that is manageable. Headlight for night riding is normal but I would have prefer a better bulb or if more LED lights.
Keeway RKS150 Sports Performance:
Top Speed: 125 km/h **
Mileage: 42 km/l (if ridden normally) **
38 km/l (if ridden aggressively) **
**: Both the top speed and mileage in Dhaka city were recorded when the bike was under 1000 km but we believe once the bike is done a full service after 1000 km both the speed and mileage will go up **
Pros:
Good build quality.
Smart look.
Top Speed and Mileage is good.
Brakes are good in the class.
Suspension is good.
Huge fuel tank for long distance travel.
Around 100 dealers across Bangladesh, so service and spares are easy to find.
Comfort for both highway and city ride.
Cons:
No tubeless tyres, worries if you are stuck in a wrong place
No rear disc brake as option.
I bit expensive compare to other Chinese bikes.
Some of the features are old fashioned given they named it SPORTS!
FINAL VERDICT :
As a bike it is fantastic to ride in both city and on the highway but when you consider the price and the features it is giving then I think it will make you sad as nearby with the same price you can get so much better.
I hope that the company will reduce the price of the bike considering the fact that it is a very good bike for the market and will someday challenge some of the big boys in the market. Also they must take care that the customers get the best after sales service from them.
Price: 174,500 BDT
Colour: Red, Blue , White & Black
Warranty: 2 years engine warranty.
Keeway RKS150 Sports Specification:
Displacement: 148 CC
Engine Mode: Single Cylinder, 4 stroke, double valves with Titanium coating, EURO 3 grade, Performance Engine Rated
Cooling System: Air-Cooled
Bore x stroke (mm): ø57x58
Maximum Power: 14.0 BHP@9500 rpm
Maximum Torque: 12.8 Nm@7500 rpm
Top RPM: 11,500
Starter System: Dual - Electric & Kick
Lubrication System: Pressure splash lubrication
Fuel system: Carburetor
Fuel control: SOHC
Ignition System: TLI
Compression Ratio: 9.27:1
Gear Box: 5-Speed
Transmission type final drive: Chain
Dry weight: 129 kg
Seat height (mm): 760
Overall Length (mm):2105
Overall Width (mm): 795
Overall Height: 1055
Ground Clearance (mm):180
Wheel base(mm):1340
Frame Type: Arch bar Track
Front Suspension: Telescopic forks
Front Suspension travel (mm): 110
Rear suspension: Mono-Telescopic coil spring oil damped
Rear suspension Travel (mm):30
Front tyre: 90/90-17
Rear tyre: 120/80-17
Front Brakes: disk "Flower cut"
Front Brake diameter (mm):230
Rear Brake: Drum Brake
Rear Brake diameter (mm):130
Max. Loadage (kg):150
Fuel capacity (L): 16
Battery: 12N7-4B
Speedometer: Digital
Tyre: Tube/Tubeless
Color: Black, White, Red, Blue
You might also be interested in