Haojue TR150S Feature Review
Published On 26-Dec-2019 04:45am , By Arif Raihan Opu
Karnaphuli Bangladesh is marketing Haojue Motorcycles in Bangladesh. The Haojue TR150S is one of their nice featured motorcycles in the category of the cruiser. It comes with a bundle of nice features and competitive economic packages. Covering the motorcycle details here we're representing Haojue TR150S Feature Review.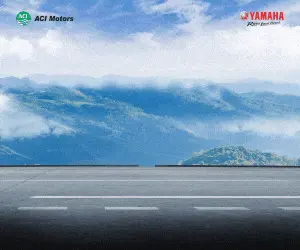 Haojue TR150S Design & Styling
The Haojue TR150S is a cruiser profiled motorcycle from Haojue Motorcycles that came with the cruiser like design & styling. The motorcycle comes with a dedicated exterior design and ergonomics indicating comfortable riding & handling characteristics.
It designed bold and exposed as well as ensuring a comfy profile from head to tail. Every part of the bike is fairly polished and furnished with nice design. Furthermore, every part of the bike nicely synchronized focusing its profile and overall design.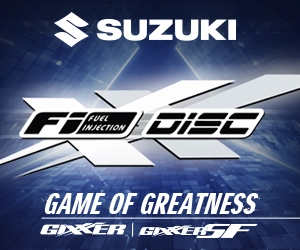 The front end of the bike is naked and bold with a nice shaped bloated headlamp and round pit dashboard. The headlamp glitters like a polished diamond and the dash shaped like a bullet head. After the raised pipe-handlebar and chrome-plated mirror, it gives an impression like a real American Chopper.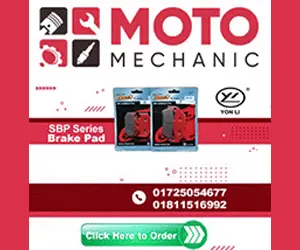 The fuel-tank is another bold pack that comes with a unique design including scratched paneling on both sides. The tank also holds another display board after the chrome refueling cap. It shows the ODO, fuel-gauge and other parameters where the front dash displays analog-speedometer and digital gear indicators.
The Haojue TR150S comes with split seating arrangements for the rider and pillion. The seat is spacious and comfortable that profile with a comfortable position of footrests and a wider grabrail. The motorcycle also comes with detachable saddle boxes on both sides.
In the rests, the side panels and mudguards all are boldly matched with its overall design. Further, the underbelly pan, bloated exhaust, and exposed V-tail just enhanced its cruiser tag. In addition, the silver finishes beside the glossy panels, and exposed alloy rims, altogether gave it a macho look. Hence, the attitude that can't be ignored even in the busy crowd.
Frame, Wheel, Brake, & Suspension Setup
The Haojue TR150S is designed and structured on a steel cradle frame. It comes with a dedicated setup of the wheel, brake, and suspension system. The wheels are featured with paired 10-spoke glazy alloy rims. The tires are tubeless type, and those are 90/90-18 size in the front and 110/90-16 at the rear.
It featured with 270mm hydraulic disk brake in the front and the rear setup is a conventional drum type. Further, in the suspension system it carrying conventional cruiser like suspension setup. In the front, it comes with upright telescopic-fork suspension and at the rear, it holds the spring-loaded double unit. Whatsoever, the suspensions are also kept exposed with chrome and silver polishing matching with the bike's design.
Riding & Controlling Feature
The Haojue TR150S is a solely a cruiser bike. Hence, top to bottom it holding a cruiser profile. Thereby the riding, controlling, and handling feature of the motorcycle is very comfy, regulated and category focused. Further, being a lower capacity small cruiser, it also holds the common commuting features.
The TR150S, being weighted 145kg including fuel and oils provides very easy handling experience. The 1,395mm of larger wheelbase and 725mm of lower saddle height made the bike very easy to ride. It allows nimble handling even in tight traffic situations.
Further, the 18-inch front wheel and fatter 16-inch rear wheel delivers extra comfort & confidence riding on different surfaces. In addition, 157mm of ground clearance gives extra advantages to riding in the odd city roads. Moreover, wider & spacious saddle and in-stock saddle boxes provide more supports riding in the long trips.
Engine & Performances
The Haojue TR150S holding a 149cc single-cylinder, four-stroke, air-cooled engine. It featured SOHC 2-Valve and carburetor fuel feeding system. It operated with a 5-speed gear transmission and manual hand-operated clutch system. Further, both kick and electric start are available with this bike.
In the book, the TR150S can deliver the maximum 8.3kW of power and 11.4NM of torque. Hence, this highly-efficient TSR engine is designed to deliver smoother and vibration-free operation in its operating RPM ranges. Further, it's efficient of power-delivery besides ensuring a comfortable range of fuel economy.
Haojue TR150S Specification
Specification

Haojue TR150S

Engine
Single Cylinder, Four Stroke, Air Cooled, 2 Valve Engine
Displacement
149cc
Bore x Stroke
57.3mm x 57.8mm
Compression Ratio
9.3:1
Maximum Power
8.3kW@8,000RPM
Maximum Torque
11.4NM@6,000RPM
Fuel Supply
Carburetor
Ignition
DC Digital CDI
Starting Method
Kick & Electric Start
Clutch Type
Wet, Multiple-disc
Lubrication
Wet Sump
Transmission
5-Speed, Return Shift

Dimension

Frame Type
Steel Cradle Frame
Dimension (LxWxH)
2,100mm x870mm x 1,170mm
Wheelbase
1,395mm
Ground Clearance
157mm
Saddle Height
725mm
Weight (Kerb)
145 Kg
Fuel Capacity
11.5 Liters

Wheel, Brake & Suspension

The suspension (Front/Rear)
Hydraulic Telescopic Fork / Spring Loaded Double
Brake system (Front/Rear)
270mm Hydraulic Disk / Drum Type
Tire size (Front / Rear)
Front: 90/90-18 Rear: 110/90-16 (Both Tubeless)


Battery
12V MF
Headlamp
12V, Bulb (LED Taillamp)
Speedometer
Analog Digital Combo Meter (On Tank Digital Fuel Gauge)
*All the specifications are subject to change upon company rules, policy, offer & promotion. BikeBD is not liable for the changes.
Haojue TR150S Feature Review
So, readers, that was our Haojue TR150S Feature Review. You can see Haojue TR150S is a dedicated motorcycle from the Haojue stable. It's a nice addition to our motorcycle market in the cruiser category. Hence, it can be nice option for cruiser lovers. Further, it also can serve better in your daily commuting needs. That's it. Thanks, everyone.
Published by Arif Raihan Opu
Creating a value of life isn't easy. But creating life valuable is easy. So I tried to creating value and make an impact. I like to work in a team that is cooperative and helpful. I like to share my knowledge and skills for the betterment of the company. Always find out the opportunities and use in a proper way.
You might also be interested in