Haojue Motorcycle Price Reduction! Haojue Motorcycle Price In Bangladesh 2017
Published On 11-Feb-2017 12:45pm , By Saleh
Haojue Motorcycle Price Reduction!
Karnaphuli Motors
have reduced the price of
Haojue motorcycle in Bangladesh
; They now becomes the second Chinese motorcycle company to reduce the price of their bikes after
Keeway did a month back
. The new price is effective from February 1
st
2017.
In the past Karnaphuli Motors were the sole distributor of Yamaha motorcycles in Bangladesh but last year that part went to
ACI Motors
and since
2014
Karnaphuli started importing
Haojue Motorcycles in Bangladesh
.
Haojue is a Chinese brand which has collaboration with Suzuki (Japan) & in the same factory they also manufacture Suzuki motorcycles in China. It is one of the best seller motorcycles in China over the past many years & it also holds the best customer satisfaction index for 9 years. Haojue is exported around 70 countries worldwide. Currently in front of PM SSF guard you will notice few Suzuki GW250cc motorcycles, all of those came from the same factory where
Haojue Motorcycle
are made in China.
They started in the marked with Haojue Cool150 and were playing with it for a long time, they were one of those companies who claimed a mileage of 50 km/l from their 150cc engine and also gave 10 years engine warranty with their bikes.

When came in Bangladesh back on mid 2014, Haojue Cool 150 used to cost 165,000 BDT, then they reduce the price to 155,000, then 140,000 & finally they settled at 127,000 BDT for a last 1.5 years or more.

Among the new line up they have added two new 135cc bikes both of which looks very aggressive & a cruiser 150cc TR 150 & a 125cc scooter for female riders, last year they also organized a test ride sessions for the female riders and taught them to ride scooter in a sense to make female riders use personal scooters rather than public transport.
| | | |
| --- | --- | --- |
| Model Name | Old Price | New Price |
| Cool 150 | 127,000 | 127,000 |
| KA 135 | 151,000 | 133,000 |
| TZ 135 | 135,000 | 130,000 |
| TR 150 | 180,000 | 162,000 |
| Lindy 125 | 120,000 | 120,000 |
From the price list we can see that they haven't reduce the price of Cool150 & Scooters Lindy125 but they went for a big reduction of price for TZ135 & TR150 both the bikes are in the crusier segments while probably their best bike in the lineup KA135 have seen a reduction of price by only 5000 BDT.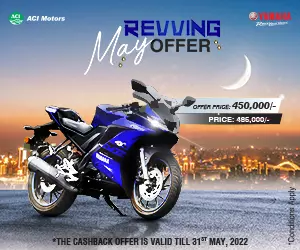 We hope This Haojue Motorcycle Price Reduction will help the bikers to buy their desired bikes and in the future will allow more Chinese companies to reduce the price of their motorcycles.
You might also be interested in