Durbar Shadhinotar Special Cashback Offer By Yamaha
Published On 01-Mar-2021 12:05am , By Ashik Mahmud
ACI Motors has declared the "Durbar Shadhinotar Special Cashback" offer for the month of Independence. ACI Motors Limited, the official distributor of Yamaha Motorcycles in Bangladesh, has always tried to give back to the Motorcyclists of Bangladesh. Yamaha has returned with another cashback offer for March. This cashback offer is valid for bikes such as the speed king of Bangladesh, Yamaha R15 V3, and the 125cc commuter class leader, Yamaha Saluto 125.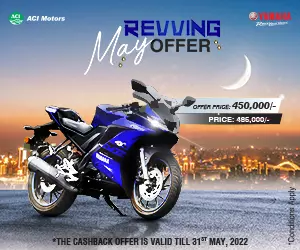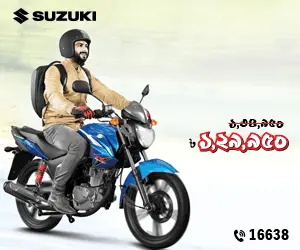 Special Cashback Offer and Pre-Booking
Recently, ACI Motors able to bring the Yamaha XSR 155 officially to Bangladesh. People took the Yamaha XSR 155's entry to the official market like a treat. People have been asking for the Yamaha XSR 155 since its inception, due to its neo-retro look.
ACI has declared several cashback. They are giving 4,100 BDT of cashback on the Yamaha Saluto 125. This will allow a lot of people who are on a budget to get the Yamaha Saluto 125. They are also giving a free helmet with the Yamaha Saluto 125.
They are giving 5,000 BDT of cashback on the Yamaha Fazer FI Version 2.0. The Yamaha Fazer FI V2.0 is one of the most sought-after touring bikes. Recently there has been a rumor of the Fazer FI V2.0 being discontinued by ACI. This is a great opportunity to go for the bike that you have been planning to get for so long.
ACI Motors also recently declared a Photo Contest for International Women's Day. The 1st, 2nd, and 3rd -7th winners of the photo contest will get 10000 BDT, 5000 BDT, and 3000 BDT of gift vouchers respectively. Also, the next top 20 contestants will get free "International Women's Day" t-shirts.
Finally, ACI Motors Limited has also declared 10,000 BDT of cashback on the most powerful bike in Bangladesh the Yamaha R15 V3 and the torque King Yamaha MT15. The people who were planning to get the Yamaha R15 or the Yamaha MT15 should now jump to this opportunity as it feels like an absolute catch.
ACI Motors has always made sure that they are the top contenders of the offers race. With this "Durbar Shadhinotar Special Cashback" they started the month of Independence with a blast and this offer will go through the entire month of March 2021. Let us see what else we have for March.
Published by Ashik Mahmud
You might also be interested in