Breaking News! Motorcycle Prices Could Rise In The Budget of 2017-2018!
Published On 11-Jun-2017 09:57am , By Saleh
All round the year's motorcycle lovers wait for the annual national budget to hear good news from the government so that they can reduce the tax on motorcycles. Last year during 2016 – 2017 budget the government did gave some good news for the bikers but this year there are some bad news, Motorcycle prices could rise in the budget 2017-2018
Over the years Bangladeshi government made some silly rules on motorcycles, including higher registration cost, engine cc limit & paying high tax for motorcycles. Until June 2016 the tax on CKD bikes were 128 % & CBU bikes 152 % .During the budget of 2016 – 2017 government made some regulation stating that if any motorcycle company goes for local manufacturing & start that procedure in a space of 2 years then they will open a new regulation under the name PM (Progressive Manufacturing).
In that new regulation if a motorcycle company promises to start at least 10% spare parts by locally manufacturing or through local vendors then those companies will then need to pay an import tax of around 90%. Within this new regulation most motorcycle companies followed the guideline & since December 2016 till February 2017 around 15 motorcycles companies reduced the price of their motorcycle. For example the most sold 150cc motorcycle in Bangladesh Bajaj Pulsar came down to 177,500 BDT from 192,500 BDT. Also in other category the price came down between 15-19 thousand which was a blessing for the bikers as I believed that with more time the reduction of price will increase and market size will also increase.
So what happened now is that during the budget of 2017-2018 the government changed the policy and now that reduction of tax which was implied back in 2016 will go up as now tax for Progressive Manufacturing & as well as CKD bikes will be almost same. Hence we are expecting that the price of most motorcycle companies will go up after Eid – ul –Fitr. Some companies may also increase the price of their bikes during the month of Ramadan.
The only exception will be for the motorcycle companies, who are locally manufacturing motorcycles in Bangladesh, example: Runner, & most important of all Hero who are set to believe to start locally manufacturing of Hero motorcycles in Bangladesh come July August of this year. This is a major drawback for the motorcycle industry because if the price of most motorcycle companies goes up it will hamper the market size as then some people won't be able to buy their desired motorcycle, on the other hand prices of Runner & Hero motorcycles may get lower from their current price.
I already talked about the major problems of bikers in Bangladesh in a previous article but sadly it seems like government will do anything to sort out anything.The biggest drawback of this new budget is that investor will lose interest in investing in this country as they don't have any long-term policy which will affect the local economy & hence won't be creating in the market. Motorcycle prices could rise in the budget 2017-2018 Keep an eye on BikeBD.com website as we will bring in details about the after budget motorcycle price in Bangladesh.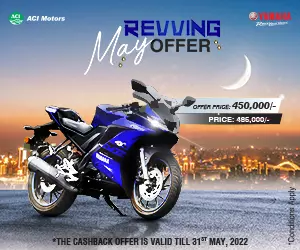 You might also be interested in