What Happened In Yamaha Motorcycle Mega Service Camp ?
Published On 03-Sep-2017 10:13am , By Saleh
ACI Motors Ltd the sole distributor of Yamaha motorcycles in Bangladesh held a 5 days long Yamaha Motorcycle Mega Service Camp in Dhaka between August 21st – 25th. The main purpose of this mega service camp was to give free service to the Yamaha bikers before the Eid holidays as many bikers visit their hometown with motorcycles during the Eid festivals.
Yamaha motorcycle mechanics provided the following service to the bikers.
Free Service Check-Up
Free YDT Check-Up
Free Bike Wash
Free Fuel-Injector Cleaning
Discussion In Handling Tips
Discussion In Yamaha Bike Maintenance Tips
Providing Solution to Various Problems.
Around 735 bikers came into the event to get the free service. One of the common complain of Yamaha bikers during the hand of ACI Motors was that their drive chain wasn't good enough & many faced problems with it. Over the time ACI Motors took feedback from the customers & they started to change the faulty chains. Bikers got their drive chain replace during this 5 days service campaign.
Another big complain about ACI Service centers are the lack of service station, here during the event they had around 8 service ramp, a total of around 25 mechanics were appointed during the event to give service which held between 8 AM till 8 PM. One of the biggest attractions of this Yamaha Motorcycle Mega Service Camp was Free Fuel Injector Cleaning. The purpose of injector cleaning is to clean the fuel injector which have impurities due to low grade fuels in Bangladesh, unlike carburetor bikes Fi bikes always requires the best fuel (RON 91) to give the best performance & mileage.
Apart from Yamaha Motorcycle Mega Service Camp they also opened a booth to sell the bikes so the people who bought motorcycles during the time of Yamaha Motorcycle Mega Service Camp got some special gift voucher from ACI Motors. On the final day of the event KB Riderz displayed a stunt show in the event. They did stunt using only Yamaha bikes, two of their stunt riders also did stunt with Yamaha Saluto.
After the stunt show they arranged a special program for the Yamaha R15 V2 owners in the name of Yamaha R15 Bash. Where many R15 riders came and participated in the program to start the process of inaugurate their club. Then the R15 riders did a rally from International Convention Center, Basundhara (ICCB) to ACI Centre at Tejgaon.
Later in the evening they organized a dinner party with the R15 V2 riders and during the dinner party Mr. Subrata Ranjan Das (CBO of ACI Motors) stated that this yamaha motorcycle mega service camp will soon will hold in other districts of Bangladesh to ensure that all Yamaha bikers will get the best after sales service from ACI Motors.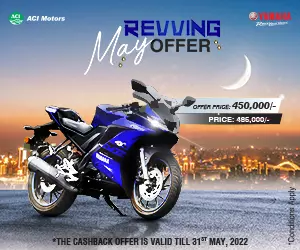 You might also be interested in