After Budget TVS Motorcycle Price In Bangladesh 2017
Published On 01-Jan-1970 06:00am , By Saleh
TVS Motorcycle has always been one of the leading Indian motorcycle brands in Bangladesh. It is popular among the youth, the commuters, and the elders. So, here we are with the After Budget TVS Motorcycle Price In Bangladesh 2017 :
TVS Apache RTR 150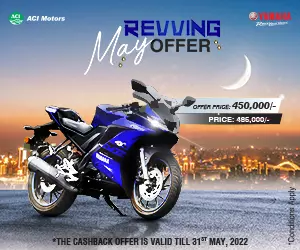 TVS Apche RTR 150 Price In Bangladesh:
Matt Blue Edtion : 1,84,900 BDT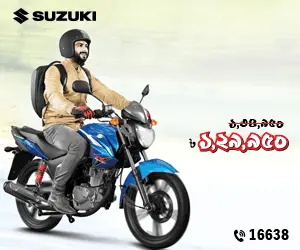 Normal Edition : 1,79,500 BDT (Single Disc)
Normal Edition : 1,98,500 BDT (Double Disc)
TVS Apache RTR 150 is a commuter bike which doesn't carry the badge or the DNA of a commuter! rather it carries the soul of a Racing bike which can tear through the tarmac and make the competitors even lose its tail light! TVS Apache RTR 150 produces 11.19 KW of power and 13.1 NM or torque and the bike only weighs 137 kilos - that makes it a fast commuter. TVS Apache RTR is good on terms of speed and mileage - and not so famous on terms of comfort and purity - so it is perfect for the type of riders who wants to commute fast - mostly the young generation.
TVS Phoenix 125
TVS Phoenix 125 Price In Bangladesh : 1,48,900 BDT
TVS Phoenix 125 is the definition of 125cc TVS commuter. It has everything a perfect rider needs - style, great sitting position, powerful engine which gives out great mileage, good controlling, good brakes and tires, etc. it is one of the most perfect 125cc commuter bike in Bangladesh.
Also Read: Aprilia Motorcycle In Bangladesh
TVS Phoenix 125 pumps out almost 11bhp of power and 11NM of torque. It has great power to weight ratio which helps it to accelerate well in city roads. also, it has a good aero-dynamics which helps it to cruise on the highway without any problem. TVS Phoenix is a bike which is recommended for everyone who is in search of a powerful commuter.


TVS Stryker 125
TVS Stryker Price In Bangladesh : 1,37,900 BDT
TVS Stryker is a brother of the TVS Phoenix 125 - but obviously with differences. TVS Stryker has launched some time ago - and has been popular ever since. It's most attractive term is its charming looks and comforting ride. TVS Stryker 125 produces 11 Ps power and 11 Nm torque from its 124.5cc engine. It is a powerful commuter created to take part in the 125cc commuting segment and rule it along with its competitors. It is a bike recommended for the old, the youth, and everyone who need style, comfort, power, and mileage.
TVS Metro Plus 110
TVS Metro Plus 110 Price In Bangladesh :
Disk Brake Version= 1,32,900 BDT
Drum Brake version= 1,23,900 BDT
TVS Metro Plus, it definitely comes with lots of new and upgraded features. For example, it comes with a new 110cc ECOthrust engine which derived from the revolutionary TVS Phoenix Engine and is best known for its smooth performance. It got a four stroke, single cylinder and air cooled type of engine. The engine controls the flow of petrol based on the throttle position and thus giving the best combination of mileage and power. the engine will give a maximum speed of 90 KM/H. This two wheeler will also give you an amazing power of 8.4 PS @ 7000 rpm and pickup of Torque 8.7 Nm @ 5000 rpm. This is the fastest 110 cc motorcycle in its segment giving 0–60kmph in 7.6 seconds! Writing more about its advanced features, the 'Ecothrust' engine has a four-speed gearbox, with the added feature of electric start in any gear. Which means the rider can easily start the vehicle with self-start when the motorcycle is in any gear, this save more fuel when you are in a traffic signal. This bike is recommended for anyone who is looking for a 110cc commuter to commute.
TVS Metro 100
TVS Metro 100 Price In Bangladesh :
Electric Start Model(ES): 1,09,900 BDT
Kick Start Model (KS): 99,900 BDT
TVS Metro ES is styled and designed with attractive sporty look and design. It's a small sized light weighted good looking bike. The candy like fuel tank and body panel gave it a nice sporty theme. Therefore no one can ignore its appeal of looks and style. TVS Metro comes with 99.7cc single cylinder 4 strike air cool engine, where the bore & stroke is 51.0x48.8 with the compression ratio 9.15:1, which produces the maximum power of 7.5 BHP at 7500 RPM. The maximum torque of the engine is 7.5 NM at 5000 RPM.
TVS XL 100
TVS XL 100 Price In Bangladesh : 64,900 BDT
The TVS XL 100 has launched in Bangladesh just on last 16th February inline with other five products from TVS Auto Bangladesh. This moped has launched targeting those customers who need some low capacity and extreme fuel efficient commuter for commercial use as well as daily purposes. TVS Auto Bangladesh confirmed as the moped is capable to carry a notable amount of load and ensure attractive fuel efficiency. We think these are the core features of this moped. TVS XL 100 comes with a four stroke single cylinder air-cooled engine with the displacement of 99.7cc. The fuel efficient horizontal engine can produce 4.2PS of power and 6.3NM of maximum torque. The drive is auto with a single gear and centrifugal clutch system. So there is no hassle for changing gear and operating clutches while riding this moped. The company also claims as this engine can easily move the moped with the maximum load even on hilly road and flyovers.
TVS Wego (Scooter)
TVS Wego Price In Bangladesh : 1,62,900 BDT
TVS wego comes with great features and its engine is very powerful and the engine is new too. Its engine is 110 cc, and the engine is air-cooled and it has single-cylinder. It has 4-stroke single cylinder Forced air cooled engine and the engine is OHC which will give very good power and it has the capacity to give higher fuel efficiency. Torque is 8 PS @ 7500 RPM max power and 8 NM @ 5500 RPM. It has self and kicks start system. And the engine is noise free and all aluminum low friction. TVS wego is made for both male and female. But it is best for women and also for old people. As the bike is very smooth and you will not feel the weight of the bike so it is really easy to use for the people who are old. But also many men are using it as their daily transport and they also love to use this scooter.
TVS Scooty Zest 110
TVS Scooty Zest 110 Price In Bangladesh : 1,47,000 BDT
TVS Scooty Zest is an latest scooter from TVS Motorcycles. it is marketed as the replacement of TVS Scooty Pep+. The TVS Scooty Zest 110 launched targeting those users who need comparatively more power in the pace of fuel efficiency. Whereas in heavy traffic like Dhaka city it is very hard to cop with a tiny lower capacity engine. According to TVS India, the new TVS Scooty Zest 110 is the best combination of power and fuel efficiency in its class (Source). They featured this product with some attractive features in combination with power and notable fuel efficiency.
TVS Jupiter (Scooter)
TVS Jupiter Price In Bangladesh: 1,64,900 BDT
TVS Jupiter is the latest installment in the TVS scooter lineup. In this clause of TVS Motorcycle Price In Bangladesh 2017, we are talking about the scooter. TVS Jupiter is a 110cc scooter with automatic gear system for easy operating. TVS Jupiter pumps out 5.8 kW of power and 8 NM of torque. it has a fuel tank of 5 liters which is good for city riding. TVS Jupiter has an elegant body along with its good riding position and foot space. It is a great ride for anyone who wants to avoid traffic in Dhaka city by enjoying the freedom of riding.
TVS Motorcycle Price In Bangladesh 2017
You might also be interested in