Yamaha Grab The Revving May Offer! ​
Published On 07-May-2022 03:04pm , By Raihan Opu
Yamaha is giving an offer for the month of May. Yamaha is giving Grab the Revving May Offer!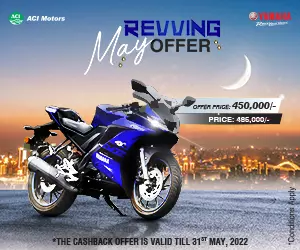 It's a cash-back offer and one of the biggest offers after Eid ul Fitr. Yamaha is giving a maximum of 35,000 BDT cashback on selected models.
R15 V3 is one of the famous and popular sports bikes in Bangladesh. Yamaha R15 V3 officially launched back in 2018. After that this model grabs the attention of the bike enthusiast.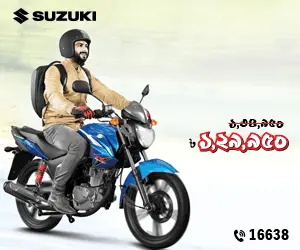 In the sports segment, Yamaha R15 V3 is one of the most popular bikes, in this offer Yamaha is giving 35,000 BDT cashback on this bike. After cashback price of this bike is 4,50,000 BDT.
There are not so many retro looks and designed bikes in Bangladesh. But one of them is Yamaha XSR 155. It's one of the retro-looking and styled bikes in Bangladesh. Yamaha is giving 25,000 BDT on this bike.
Click To See Yamaha Ray ZR Street Rally 125 Fi First Impression Review
MT15 is a naked sports bike that is popular for its torque. For its torque, this bike is called the master of torque. Engine power of this bike is as follows: 19.3 PS @10000 RPM & 14.7 Nm @ 8500 RPM.
Yamaha is giving 5,000 BDT cashback on Yamaha MT15 bike and 10,000 BDT cashback on Fazer fi V2. Yamaha Fazer is one of the popular bikes for its touring capabilities.
Yamaha Motorcycle Is One Of The Best Motorcycle Brand In Bangladesh. In the 150cc naked sports commuter segment, Yamaha FZS Fi V3 ABS is one of the popular but FZS Fi V2 DD is more popular in this segment. Yamaha is giving a 2,000 BDT discount on both of these models.
But this cashback is valid only for pre-booking of this bike and it's valid till 15th May 2022. Pre-booking bike will be delivered within 31st May. Cashback offers for other models will continue through the entire month of May 2022.
We heard the news that Yamaha R15M and R15 V4 will be launched before Eid but for some reason, it didn't happen. But ACI Motors taking pre-booking of these bikes.
We hope this month ACI Motors will launch Yamaha R15M and R15 V4 with a grand launching event. Till then safe ride.
To see the details Yamaha Bike price in Bangladesh and Yamaha Bike showroom near you visit BikeBD.Com. Stay with us for more update motorcycle news.
You might also be interested in