Yamaha Cashback Offer October 2019 - ACI Motors | BikeBD
Published On 09-Oct-2019 06:41am , By Raihan Opu
ACI Motors Ltd - Yamaha Motorcycle Bangladesh is giving away an exciting offer for the bikers, they are giving a Yamaha Cashback Offer October 2019 which includes 18,000 BDT cashback offer on Yamaha FZS Fi V3.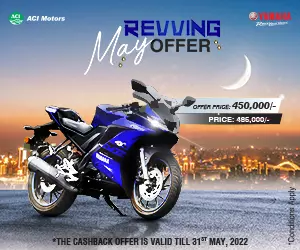 In this cashback offer, Yamaha is giving cashback on their popular motorcycle models, both commuter and naked sports segment.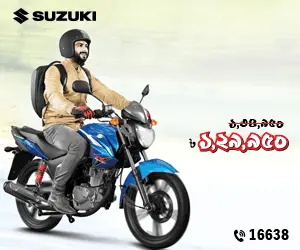 Yamaha Cashback Offer October 2019
| | | |
| --- | --- | --- |
| Model | Price | Cash Back Amount |
| FZS FI V3.0 | 295,000 | 18,000 |
| FZ FI V3.0 | 290,000 | 25,000 |
| Saluto Disc SE | 136,000 | 7,000 |
| Saluto Disc | 132,000 | 4,000 |
| Ray ZR (without UBS) | 165,000 | 6,037 |
Yamaha is giving a maximum of 25,000 BDT on Yamaha FZ FI V3.0 and 18,000 BDT on FZS Fi V3.0. They are also giving an exciting cashback offer for the model Saluto, which is a commuter motorcycle and Ray ZR (without UBS), which is a stylish scooter from Yamaha. Yamaha is giving 7,000 BDT cashback on Yamaha Saluto Disc special edition and 4000 BDT on Saluto disc brake.
On the other hand, Yamaha is giving 6,037 BDT cashback on Yamaha Ray ZR (without UBS) scooter which a stylish and mucho looking scooter from the Japanese brand. This Yamaha Cashback Offer will continue throughout the whole month of October 2019 and will end on 31st October 2019.
Yamaha is always giving offers, discount and cashback for their customers. FZS series is one of the popular motorcycle series in Bangladesh. From the past, this motorcycle series is popular on style, looks, design, and features. Now the third version arrived in Bangladesh with new design, looks, and features. The most attractive feature of this motorcycle is the ABS(anti-lock braking system).
On the scooter segment, Yamaha is also popular with Ray ZR. A few months back Yamaha introduced Yamaha Ray ZR with UBS(Unified Braking Systems) in Bangladesh. Yamaha is giving cashback offers on these motorcycles, but unfortunately, Yamaha is not giving any offers or discounts on Yamaha R15 V3 which is one of the most popular motorcycles in the sports segment. But this offer will help the bikers to buy their desired Yamaha motorcycle.
You might also be interested in