Victor-R Classic 100 Feature Review
Published On 23-Aug-2017 06:42am , By Saleh
Bikers in Bangladesh complains a lot about me that I always review mostly 100cc motorcycles, it has been very few times that I wrote articles on motorcycles in the lower category ( 80 – 110 cc) which covers around 70% of the market currently. So because all the new 160-165 cc motorcycles won't come before Eid ul Azha, I will try to present you with some small brief of 100 cc motorcycles, starting with the Feature Review of Victor-R Classic 100.
Victor-R Classic 100 is distributed by Rasel Industries Ltd, for many who will wonder, this is the same company who bring Lifan motorcycles in Bangladesh. Usually RIL have all their commuting motorcycles branded as Victor-R while all their performance bikes are branded as Lifan.
At first glance Victor-R Classic 100 will give you an impression of Yamaha CD 100 Deluxe; you will find some similarities in terms of looks of this bike with one of the all time great Yamaha bike to come in Bangladesh. The bike has a round halogen headlight, indicators are conventional. Pipe handle and very old fashioned switch gears.
The handle bar is well spread out for maximum efficiency on turning radius. Front suspensions of the bike are telescopic suspension, which is a base suspension for all commuting motorcycles in Bangladesh. They added a small cover to protect the sensitive part of the suspension to avoid any types of flying debris. The bike also has full chain cover.
Victor-R Classic 100 - The whole bike is slim in design; the fuel tank is slim & carries around 8 litres of fuel. The seat is not too long. One grown up can seat properly but it will be very difficult for two grown up to seat properly. Rear suspensions of the bike are of telescopic shock absorber with spring coil. Both the tyres are spoke tyres & are not tubeless & the brakes in both front & rear are drum.
One of the attractions of the bike is its silencer, which gives it an impression of being a café racer type of bike. Generally we don't have any café racer type of bikes in Bangladesh and some of the people who bought this motorcycle are buying this for that reason. The bike has a small speedometer which will just show the speed of the bike & just few warning lights. There is no fuel meter gauge for the bike & they did a bad thing of having the neck lock on the neck of the bike rather than on the ignition key.
The bike also get both kick & self starter & hazard indicators, where both the indicators will blink with the touch of a button. They didn't give any pass light or engine kill switch. Also the qualities of the switch gears aren't the best in the market. The overall dimension of the bike is very less so for people of short height I think this will be a good commuting bike for Dhaka city.
Mostly in many bikes I talk about the engine first but there I will do the opposite, this bike have a 100 cc air cooled engine which only gives out 5.5 BHP @ 7500 RPM. Attach to the engine is a 4 speed gear box. The bike is very light as it weighs only 80 kg. The company claims a mileage of 55-60 km/l in Dhaka city & 65 + km/l on the highway.
Overall looking at the bike from the showroom I think that at a price of 85,000 BDT this bike are for people who commute daily in Dhaka city but are single or are new office goers. Yes the bike has some classic styling but it also need to have better build quality if it wants to sustain in the market in the long race. This can also be a bike for those new riders who want to gain experience with a small bike.
We hope in the near future we will be able to give further details about this bike with extensive Test Ride Review but for now I hope that this Feature Review of Victor-R Classic 100 will help you to get some basic idea about the motorcycle. The bike is available in Red, Black & Yellow colour in the market.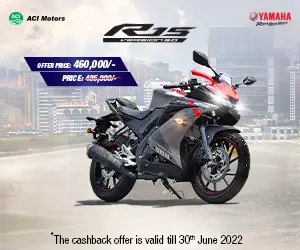 To see the details of Bike prices in Bangladesh and Bike showroom addresses near to you visit BikeBD.Com. Stay with us for more updated motorcycle news keep visiting our website and subscribe to our BikeBD Youtube channel, also stay connected to our BikeBD Facebook Fanpage.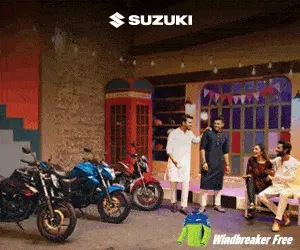 You might also be interested in