UM Powermax : New 125cc Scooter in Bangladesh
Published On 08-Dec-2015 12:35pm , By Shuvo
On one afternoon while I was testing an upcoming bike on 300 feet road I happen to end up in a drag race with Tina Chakma & with her scooter UM Powermax & hence I got the first hand to ride it a bit and share my little experience with you all.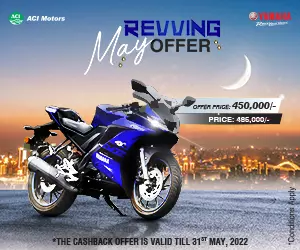 Firstly I want to note that it is not a TEST RIDE review but rather a visual review of the bike and my experience of riding it for 10 km on the flat roads of 300 feet. The scooter is very neat and very simple and to be honest it does have a masculine attitude, so for the people who think that scooter are only for girls might have a different impression after seeing UM Powermax.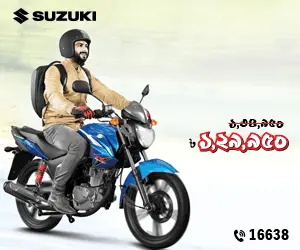 The headlight of the scooter is integrated within the body and not places on the handle bar like most conventional scooter, while the LED parking light are bolted down on the handle bar. The design is very nice too with a mix of BLACK and WHITE and most the most important thing about Powermax which I liked most is that it is very light weight.
You can easily perform a double stand with the bike and there is enough space for two people to sit and ride on it, the seat are very flat and comfortable too, the quality of the switch gears of the bike are good too with a analog speedometer showing speed, fuel gauge meter & other warning lights I think a clock would have been a better add on the console. Am a bit sad that they didn't gave a side stand indicator or an security lock so that when the side stand is down the bike won't start.
The ignition key is equipped with a safety feature which once locked can only be open with the key, also you have an USB charger through which you can charge many things. Underneath the handle bar there are some open spaces where you can keep few of your belongings but I would prefer that place to be boxed as the security of keeping valuable things there is a mistake in a place like Bangladesh, they also kept a helmet hook there to hang your helmet.
The under seat storage is not huge but there is enough space to keep a helmet when you park the scooty in your office or universities or while you are riding you can keep your bags so that you can enjoy a comfortable ride. Powermax also have a carrier where you can tie something that's weight up to 5 kg.
Now I will talk about the ENGINE and DRIVE! Engine is a 125cc SOHC engine where the engine is cooled by FORCE AIR INDUCTION, there are no gears so all you need to do is to start the engine and twist the throttle and let the scooter lets you enjoy the wind. I loved the leg space this scooter has, so that even in long rides you don't feel bored and your legs don't get tired.
The drive is good as the scooter was new so I couldn't ride hard but took the scooter to a max speed of 60 km/h but according to Tina the top speed can get pass over 100 km/h, there is little vibration at mid speed but the suspensions are very good to fight the roads in Bangladesh, interesting to note that there is just one hydraulic shock in the rear on the left side and due to front disc and rear drum brake the scooter has good balance under braking.
One of the best thing about the scooter that when you ride and picked up at a certain speed and you release the throttle the scooter uses its engine braking to help slow down the scooter, the engine is smooth and drive is smooth.
There is a trend in Bangladesh that scooters are for LADIES but this is one of that scooter which resembles the MEN as well, due to its sharp design and good look and good chunk of power. Am still to know more about the scooter mostly about the mileage, top speed and stability at high speed corning and braking. Very soon we are hoping to do a full TEST RIDE review on the scooter.
The price of the scooter is 1,28,000 BDT and are available in two colours WHITE & BLACK! With every scooter you will get 2 years engine warranty & a Helmet as a gift.
ENGINE : 1 Cylinder, 4 Strokes, SOHC
DISPLACEMENT (ml) : 125 cc
Power (hp/rpm) : 7 BHP / 7000 rpm
Compression Radio :9.2:1
BORE & STROKE (MM) :52.4 x 57.8 mm
IGNITION :CDI
COOLING :Forced Air Induction
TRANSMISSION :Automatic
FINAL DRIVE :Belt
FRONT SUSPENSION :Hydraulic Telescopic
REAR SUSPENSION : Single Hydraulic Shock
FRONT TIRE : 90 / 90 - 12
REAR TIRE :3.5 - 10
FRONT BRAKE :Disc
REAR BRAKE :Drum
STARTING SYSTEM :Electric / Kick
DRY WEIGHT (KG) : 102 kg
SEAT HEIGHT (MM) : 750 mm
TOTAL HEIGHT (MM) : 1120 mm
Total Length (MM) : 1800 mm
TOTAL WIDTH (MM) : 675 mm
GROUND CLEARANCE (MM) : 110 mm
WHEELBASE (MM) : 1280 mm
FUEL TANK CAPACITY (GAL) : 7.5 litre
MAXIMUM LOAD (KG) :150 / 75 kg
MAXIMUM LOAD SMALL REAR (KG) : 5 kg
For more details please contact: 01984434305
You might also be interested in