TVS Radeon Review By Team BikeBD
Published On 04-Jul-2020 07:48pm , By Raihan Opu
Last year 550,000 units of bikes were sold in Bangladesh of which half was between 80-110 cc segments, so why is this segment of motorcycle so popular in the market, we will try to answer those questions through the Test Ride Review of TVS Radeon.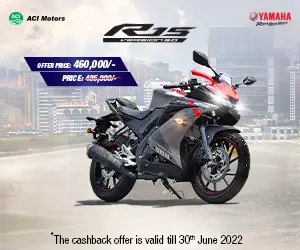 For the people who buy a commuting motorcycle, they search for mileage, comfort, riding ergonomics, and lastly performance. So does TVS Radeon tick those boxes?? TVS Radeon is a 110 cc commuting motorcycle. The engine is an air cooling engine & BSIV compliance. The engine of the bike produces 8.2 BHP @ 7000 RPM & 8.7 NM of Torque @ 5000 RPM. There is a 4-speed constant mesh gearbox with the bike. The engine is powerful and it kicks a good amount of torque on the high end.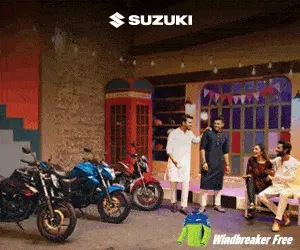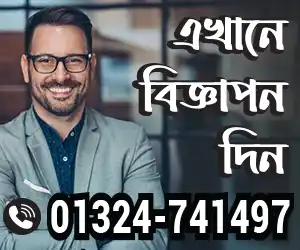 The engine is very smooth & it is happy accelerates from 0 to 80 kmph. The sound from the exhaust is a bit sporty. The engine stays happy for speed up to 65-70 kmph, beyond this speed vibration kicks in which can be felt for speed on the handle bar & footpeg when the speed of the bike is around 75 kmph. Just like many modern bikes on this era Radeon also features both kick & self-starter.
There is some commuting motorcycle in Bangladesh which when a pillion rider sits the engine seems to become tired for a long-distance ride but it wasn't the case with TVS Radeon as with or without a pillion the engine of the bike gives out enough punch to move them around, in the city or on the highway. The seat is long and comfortable. TVS Radeon has unique styling, it has metallic color options There is bright DRL upfront which looks stunning during dusk or dawn. The headlight is although an AC unit but it doesn't dim out completely when the throttle is off.
You will find lots of CHROME on the bike, there is chrome around the headlight, then on the square shaped speedometer & on the silencer. It even has rubber tank pads on the side of the fuel tank. There is a standard luggage holder, saree guard, grab rail & side bumpers. There is halogen headlight which gives enough light to ride at night time. On the right-hand side of the bike, there is a luggage holder.
Speedometer is a base unit, with a speedo gauge & fuel gauge with other warning lights including a side stand indicator. There is a POWER & ECO mode light on the speedo which will tell you at any instant at what mode you are riding. During night time sometimes it will be a bit confusing to differentiate between the ECO & NEUTRAL light as both are GREEN in colour & it will take some days to get used to it.
Radeon is backed up with switch gears which came straight from TVS Apache RTR 1604V & we all know the quality of switch gears are good. The seat also comes with a rear grab rail which has a small plastic tray for better-carrying things on it. This is a commuting motorcycle but the color quality, plastic quality; finishing & build quality is nearly comparable to that of TVS Apache RTR 1604V ! That is the length of work TVS did with this bike.
This is a happy little bike, the seating position is very comfortable and even with the pillion the oil damped front telescopic suspensions and the rear 5 step adjustable hydraulic shock absorbers give very good feedback on bad roads.
Also due to a high ground clearance you a jump over the speed breaker without hitting underneath of it. Moving through city traffic isn't an issue for this bike. It also has a good turning radius & added to that good saddle height to flick it using your leg to balance it. What this bike misses out is a front disc brake, they have given it Synchronized Braking Technology but both the front & rear wheels are fitted with drum brakes, which is ok for speed around 60-70 kmph but anything over for emergency braking the current brake setup isn't enough.
The bike weighs 112 kg & has a fuel tank capacity of 10 litres. Top speed we achieved during our testing was 110 kmph while we received mileage feedback of 60 kmpl kmpl on the highway while in Dhaka city that mileage went around 50-52 kmpl.
TVS Radeon Review - PROS :
Powerful engine
Build quality
Plastic quality
Suspension feedback
Handling in city riding or on the highway
Tubeless tyres
Long comfortable seat
TVS Radeon Review - CONS:
Styling isn't still sharp, its more concentrated on classic look.
Lack of front disc brake. You don't get too much confidence at high-speed braking
Headlight needs to be upgraded.
On the speedometer, Neutral & Power lights during night time might confuse you.
TVS Radeon is a very good commuting motorcycle. With the features it has plus the Synchronized Braking System I think it could be one of the choices for the bikers who are looking for a motorcycle under 1 lac during this pandemic as said by the doctors all over the world that it is better to avoid public transport & commute on personal transport like bicycle, motorcycle or car. This bike will give a very hard fight to other bikes in its segment.
BikeBD Partners:
Engine Oil partner - MobileAccessories
Partner - GearX
Security Partner - Finder GPS
Insurance Partner - Nitol Insurance
You might also be interested in