Suzuki Gixxer In Bangladesh: First Impression
Published On 17-Jan-2015 05:23am , By Shuvo
Suzuki Gixxer In Bangladesh
What were most of the bikers doing on the evening of 14th January?? Most of them were heading home early due to strike in Dhaka city the next day to avoid any trouble on the roads. Around 20 odd bikers gathered in a place call Howdy or Howdie (which ever spelling suits you) to see face to face for the first time Suzuki Gixxer, which to me is the next atom bomb to fall in Bangladesh after Yamaha R15 V2.0.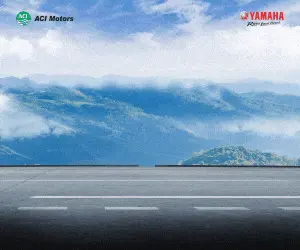 We have talked about it many times in the past & now we will share our experience after taking a short TEST RIDE. The first impression of the bike is pretty impressive, the design is fantastic, muscular, yes you can compare the design of it with Yamaha FZS but trust me in details there are many difference between them. Fuel tank is sculpted with plastic panels with neat and nice finish.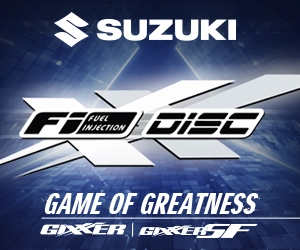 The headlight to me felt a bit small, (as in the picture it seemed to be a bit bigger) but I love the rear end of the bike, the rear hand grab is beautifully merged within the body, the tail light is LED and looks beautiful. The riding pasture is nice and more to my happiness the fuel tank is design so beautifully that it is very comfortable to put the chest on the tank and ride in a sporty pasture to cheat air. There is also a duel outlets silencer which just catches your eyes, it looks awesome.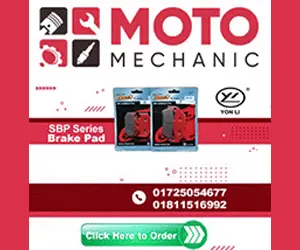 The bike has an electronic speedometer with rev light, clock & gear indicator with other normal gadget. The background colour of the meter is something I didn't like, some say it is orange but to be honest it isn't, it is in one word RED orange!
The bike has a 155cc (yes it is LEGAL in Bangladesh) 2 valve engine producing 14.6 BHP and 14 NM of Torque. Gixxer is equipped with Suzuki's patented SJCS which means Suzuki Jet Cooling System. It sprays oil on piston when piston tends to get hot. Though the bike was new (only done 80 km the one I was testing) so I pushed the throttle as much as I can and on 3rd gear I was doing 82 km/h. So far it felt that in terms of speed it is ahead of FZS and close to Trigger. The bike has a 5 speed gearbox.
Braking wise it also felt better then FZS, but the thing which so far won my heart is the bike's rear tyre, & it's rear suspension which I assume should go round any corner faster than anything else in its class with a constant rider. The bike has MRF revz 140/60R-17 rear tyre and 100/80-17 front tyre.
Couldn't give any feedback about the suspension, top speed & fuel economy of the bike due to lack to TESTING but hoping that in the near future I will get the chance to test ride it for a few days. According to Rancon Motorbikes LTD the bike will be available in showrooms across Bangladesh any date after 25th January,2015. Lets See Suzuki Gixxer price in Bangladesh here.
SPECIFICATION OF SUZUKI GIXXER
Type: 4-stroke, 1-cylinder, air-cooled
Valve System: SOHC, 2 Valve
Displacement: 154.9 cm3
Bore/Stroke: 56.0x62.9 mm
Engine Output: 14.8 PS @ 8000 rpm
Torque: 14 Nm @ 6000 rpm
Fuel System: Carburetor
Starter System: Electric
Transmission Type: 5 Speed, MT
PRICE of SUZUKI GIXXER in BD : 2,35,000 BDT (Click here to See The Current Market Price)
Address of Rancon Motorcycles LTD Head Office : 387, Tejgaon I/A, Dhaka-1208, E-mail: suzuki@rangs.com Manufacturing Unit: Bhabanipur, Kashimpur, Gazipur Customer Service: +8801789 333 111, 04470 030 010
To see the details Suzuki Bike price in Bangladesh and Suzuki showroom near you visit BikeBD.Com. Stay with us for more update motorcycle news.
You might also be interested in