Race GSR125 Feature Review By Team BikeBD
Published On 29-Jul-2017 05:00pm , By Saleh
Race GSR125 Feature Review
Piaggio is one of the leading two wheeler company from Italy, they also own brands like Aprilia, Vespa, Derbi, Gilera & Moto Guzzi. Nowadays, most European or Japanese motorcycle companies who are trying to get into the Chinese motorcycle market, need to have a joint collaboration of one of the local Chinese motorcycle companies.
So let's move on and talk more about the bike! GSR125 is a full sports bike which is loaded with lots of interesting features. The engine for an instant is a 125 cc unit; it features a single cylinder, double overhead camshaft engine and it has 4 valves. The engine also has inner stability balance shaft technology, which helps in reducing engine vibration. It is Euro III spec engine which also has water cooling system.
The engine matted with a 6-speed gearbox. The engine also featured with abnormity fuel combustion, secondary double filter system, and duel oil pump separately chamber lubrication. All these to make the bike run smooth. For the people who might be looking for the missing link, yes the engine is also loaded with EFI Marelli system, with accurate MIU electrical control unit which adjusts the fuel injection volume very accurately.
Now let's talk about the beautiful design of the bike. As I said earlier, this is a full sports bike. So the handle position is full sporty which might be a bit mental & physical hassle for the people who are not habituated with sports bikes. The bike feature dual front halogen headlights. It has 300 mm front disc brake & 220 mm rear disc brake.
The bike features twin spar aluminum beam with double sided swing arm. The bike's front tire size is 100/80-17 & rear tire is 130/70-17. The front suspension of the bike is featured with a USD unit with dual hydraulic stroke damper, while the rears are single coil hydraulic damper with helicoidally spring.
The bike features huge rear chain sprocket, the split seat like R15V2, under body rear grab rail, LED rear tail light, standard switch gears &a digital speedometer with many features. Overall the build quality of Race GSR125 is very good, and in some cases, it's better than Race Fiero 150FR. The bike is heavy too. It has a dry weight of 148 kg which is a lot in this segments given that the frame of the bike is made of aluminum. It also has a huge fuel tank of 15+ liter to make long distance ride easy. Even though in the picture it might seem that the bike is shorter in height but trust me it isn't.
We are not sure about the true performance or the reliability of the bike as we are yet to Test Ride the machine on road. Looking so far at the brochure, I think Race GSR125 is for those people who want a Quality sports bike but can't afford a Yamaha R15 V2 or Honda CBR150R. Yes, the bike doesn't seem to be practical in the real world but a very interesting thing to live up with.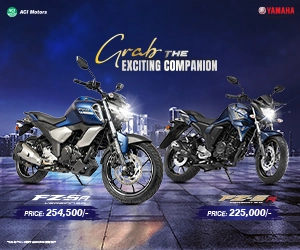 Multiplate Gear: 6 speed Final Drive: Chain Overall Length: 1950 mm (76.77 in) Overall Height: 1110 mm (43.31 in) Overall Width: 770 mm (30.31 in) Wheel Base: 1345 mm (52.95 in) Ground Clearance: 115 mm (4.35 in) Seat Height: 820 mm (32.28 in) Brake: F: Radioactive calipers, Disc brake; Diameter 300mm R: Disc brake; Diameter 218mm Suspension: F: Upside Down (Inverted), Dual hydraulic damping front shock absorber, Stroke 114mm R: Mid Positioned, Mono Shock; Stroke 36mm Tire: F: 100/80 -17 R: 130/70 -17 Fuel Tank Capacity: 15.4 L Curb weight: 148 KG
To see the details of Bike prices in Bangladesh and Bike showroom addresses near to you visit BikeBD.Com. Stay with us for more updated motorcycle news keep visiting our website and subscribe to our BikeBD Youtube channel, also stay connected to our BikeBD Facebook Fanpage.
You might also be interested in