Advantages of Bigger Size Motorcycles
Published On 16-Nov-2021 10:42am , By Raihan Opu
Advantages of Bigger Size Motorcycles. Motorcycling is an amazing world that is integrated with adventure, sport, fun, and very deeply with daily life events. There are numerous types, categories, purposes, designs, and features of motorcycles available in this bunk whereas small and bigger size motorcycles are simply categorized in a bold line. Hence the bigger size motorcycles are attractively popular in the adventure world and here we have the privilege to describe the advantages of bigger size motorcycles here.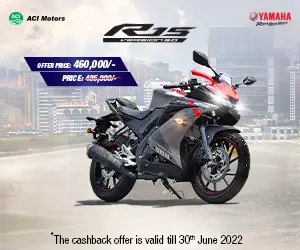 Advantages of Bigger Size Motorcycles
Bigger size motorcycles have a number of attractive advantages and among the entire noticeable pros; one of the major advantages of bigger size motorcycles is their build quality. Bigger size motorcycles are usually developed after an extensive range of R&D and many years of manufacturing craftsmanship; thus those build with excellence and ensure quality. Hence most of the bigger size motorcycles are quality build.
Bigger size motorcycles usually come with bigger size and capacity engines. Those commonly featured twin or four-cylinder engines. Accordingly, those engines produce a handy amount of power and torque. Therefore, bigger size motorcycles are more powerful and those don't need to struggle due to their small capability.
Bigger size motorcycles are often profiled with highly sophisticated, modern, and advanced features. Those obviously enhance the motorcycle capability, utility, and give the riders better enjoyable riding experiences ensuring more safety.
Bigger size motorcycles are commonly designed with highly capable wheel, brake, and suspension systems; and often designed with the most advanced safety ঁ easy controlling features like multiple channel & multi-mood ABS, extensive traction control, different surface riding mood, cruise control, safe cornering features, etc. Thus bigger size motorcycles are safer to ride and it's much more sophisticated ensuring riding safety.
Précised distribution of weight and overall weight balance is another biggest advantage of bigger size motorcycles. Hence due to better weight distribution, bigger size motorcycles are made well-balanced and come with better riding & handling characteristics. Besides, due to heavier weight, those motorcycles better stay mounted on the surfaces.
Not a minor and it's an attractive utility that the bigger size motorcycles come with better carrying capacity both the pillion and also the heavy luggage like different types of the pannier, roll top, tail top, tank bags, etc. And most attractive part is those motorcycles are featured for such carrying ability where the overall balance is not that much hampered.
Bigger class motorcycles are solely designed for high-speed rides and riding for prolonged hours thus those better fit the high-speed highway rides. On the highways and expressways, bigger size motorcycles perform better and unleash the real capability and utility.
Commonly bigger size motorcycles need comparatively lower and longer intervals of maintenances. The larger capacity engines literally deal lower stresses than the small capacity engines thus those wear less and are delayed and due to quality build those motorcycles don't need frequent repair or maintenances.
Above all the advantages are the significant reason behind the bigger size motorcycles are suitable and made for long and long travels like cross country, transcontinental, or world tours. Therefore the adventure riders most likely do their long travels with bigger size motorcycles.
Not the last but bigger size motorcycles commonly come with a handful amount of power, good balance, better ergonomics, advanced safety features, and quality performances; thus a rider enjoys the ride flawlessly and rides more effortlessly. Hence riding bigger size motorcycles is undoubtedly more fun, adventurous and relaxing.
You might also be interested in