Yamaha FZS-FI V3 VS Pulsar NS160-FI Comparison Review
Published On 03-Oct-2019 03:01pm , By Raihan Opu
In this modern era, motorcycles are getting modernized so fast. Even the low capacity commuters also getting modern and hi-tech features. Sequentially, the new Yamaha FZS-FI V3 came with updated features. And this time Bajaj NS160-FI took place in the market with a bundle of advanced features. Thus, the Yamaha FZS-FI V3 VS Pulsar NS160-FI Comparison Review came today in our window. So, come and join us.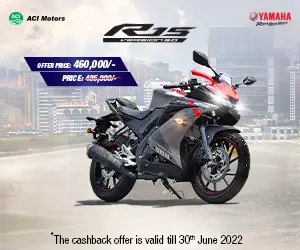 Yamaha FZS-FI V3 VS Pulsar NS160-FI Design & Appearance
The Yamaha FZS-FI V3 is the latest update in the Yamaha FZS Series in this South-Asian region. This is the third generation of Yamaha FZS in the 150cc segment. The motorcycle launched this year with completely a new design along with some attractive technical updates.
In the look & design, the FZS-FI V3 build much bulky with bloated and fluffy exteriors. The motorcycle got all-new LED headlamp, fully digital ODO-Console, new fuel tank, single-piece wider seat, and even the new tail.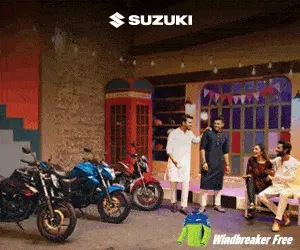 From top to bottom the motorcycle exteriors are redesigned and reshaped. Even the minor corners of the exterior also revised with all new skin and styling. Hence, altogether the machine got completely a new profile with unmatched looks and appearance than the older versions.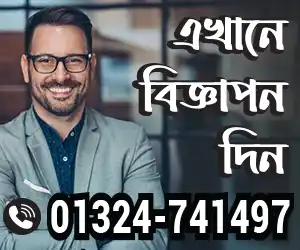 On the counter, the new Bajaj Pulsar NS160-FI comes with the same looks and design as was in the carb-version of NS160. The new FI-version remaining in the same design of muscular exterior and profiles.
Here, the muscular headlamp, taillamp, bigger fuel tank, split seat all are remaining the same as the older. The only graphical changes came on the few sticker-works. Those crafted with ABS, Fuel Injection and Oil-Cooled textures. Accordingly, under tank cowling holds the new oil cooling machinery. That's it.
Frame, Wheel, Brake & Suspension System
In this section, a bundle of technological changes came on both motorcycles. Both the Yamaha FZS-FI V3 VS Pulsar NS160-FI placed here face to face in tough competition with some advanced features.
Here, the Yamaha FZS-FI V3 holding the steel diamond frame. The Bajaj Pulsar NS160-FI holding the same perimeter frame as was in carb-version. Further, in the wheels, both the motorcycle featuring alloy rims with tubeless type tires.
Here FZS-FI V3 rolling with comparatively a wider & low-profile tire as was in the earlier version. On the counter, the Pulsar NS160-FI replaced the older narrower tire. It adopted 90/90 -17 & 120/80 -17 tires respectively in the front and at the rear. But despite the NS160-FI enhancements FZS-FI V3 holding better wheel dimensions.
In the braking system, both the motorcycle now comes with quite nearer dimensions in the setup. Both the model holding hydraulic disk brakes on both wheels. Here Pulsar NS160-FI braking setup updated with wider disks. Further, in addition, both the model is featuring single-channel ABS enhancements. NS160 comes with the 260mm front disc brake while FZS comes with a bigger 282 mm front disc brake.
In the suspension system, FZS-FI V3 holding a fatter profile of telescopic fork suspension in the front. At the rear, it's the same mono suspension as was in the previous version. On the counter, Pulsar NS160 holding the older narrower telescopic for in front. Accordingly, the rear is mono, which comes with the Nitrox Gas Canister supports.
Riding Characteristics & Handling Feature
The Yamaha FZS-FI V3 VS Pulsar NS160-FI, both the machine carrying quite a different profile of riding and handling. Here both the model is the street naked model. But in FZS-FI V3, its comfortable upright with pipe handlebar and single-piece seating arrangements.
On the counter, the NS160-FI carrying sporty split-seat and clip-on type handlebars. Accordingly, the riding posture is quite aggressive and it's sporty upright. Further, the control lever arrangements are also profiled for a sporty mode of riding.
Accordingly, the FZS-FI V3 allows nimble & easy handling along with 137kg of lighter weight. On the counter, NS160-FI provides quite a sporty ride with heavier 148 kg of weight. Therefore, with different wheel, brake, and suspension setup both the motorcycle featuring different riding tastes & handling characteristics.
Yamaha FZS-FI V3 VS Pulsar NS160-FI – Engine & Performances
In terms of the engine & feature, both the FZS-FI V3 VS Pulsar NS160-FI comes with a different type of engines. Accordingly, their performance ranges also different. Here, FZS-FI comes with a 149cc, single-cylinder, air-cooled, SOHC, 2-Valve engine.
On the counter the NS160-FI holding 160.3cc, single-cylinder, four-stroke, oil-cooled, SOHC, 4-valve engine. It also featured with DTS-I Twin Spark Ignition. Further, both the motorcycle featured the Electronic Fuel Injection System with all DC operation.
Here, both the motorcycle featured with 6-speed gear transmission and electric start system. But the NS160-FI also featured with the conventional kick starter. Whatsoever, FZS-FI V3 delivers the maximum power of 13 BHP and 12.8NM of torque. On the counter, the NS160-FI delivers 14.8BHP of power and 14NM of torque.
So, in terms of power and torque delivery both the motorcycle carrying quite a huge difference. Moreover, different weights, dimensions, and aerodynamics should create more differences in real road performances. Hence, altogether unavoidably both the machine carrying significant differences in the performance, control, and handling. That's it.
Yamaha FZS-FI V3 VS Pulsar NS160-FI Specification Comparison
Specification
Yamaha FZS-FI V3
Bajaj Pulsar NS160-FI
Engine
Single Cylinder, Four Stroke, Air Cooled, SOHC Engine
Single Cylinder, Four Stroke, Oil Cooled, SOHC, Twin Spark DTS-I Engine
Displacement
149cc
160.3cc
Bore x Stroke
57.3mm x 57.9mm
Not Found
Valve System
2-Valve SOHC
SOHC 4-Valve
Compression Ratio
9.5:1
Not Found
Maximum Power
13 BHP @ 8,000RPM
14.8 BHP @ 8,500RPM
Maximum Torque
12.8N.m (1.3kgfm) @ 6,000RPM
14.NM @ 6,500RPM
Fuel-Supply
Fuel Injection
Fuel Injection
Ignition
TCI (Transistor Controlled Ignition)
Electronic
Starting Method
Electric Start
Kick & Electric Start
Clutch Type
Wet Type Multi-Plate Clutch
Wet, Multiple-Disc
Lubrication
Wet Sump
Wet Sump
Transmission
5 Speed, Pattern 1-N-2-3-4-5
6 Speed; 1-N-2-3-4-5-6

Dimension

Frame Type
Diamond Frame
Perimeter Frame
Dimension (LxWxH)
1,990mm x 780mm x 1,080mm
2,017mm x 803mm x 1,060mm
Wheelbase
1,330mm
1,370mm
Ground Clearance
165mm
176mm
Saddle Height
790mm
Not Found
Weight (Kerb)
137Kg
148Kg
Fuel Capacity
12.8 Liters
12.0 Liters
Engine Oil Capacity
1.2 Liters
10.2 Liters

Wheel, Brake & Suspension

The suspension (Front/Rear)
Telescopic Fork / Mono Shock Absorber
Telescopic Fork with Anti-friction Bush / Nitrox Mono Shock Absorber with Canister
Brake system (Front/Rear)
Hydraulic Disk Brake / Hydraulic Disk Brake Single Channel ABS
260mm Hydraulic Disk Brake / 230mm Hydraulic Disk Brake Single Channel ABS
Tire size (Front / Rear)
Front: 100/80-17 M/C 52P Rear: 140/60-17 M/C 63P Both Tubeless
Front: 90/90 -17 49P Rear: 120/80 -17 61P Both Tubeless
Electrical & Other
Battery
12V, 4.0AH (10H), (MF)
12V Full DC MF
Headlamp
LED
H4 (12V 55/60W)
Tail Lamp
Bulb
LED
Speedometer
Fully Digital
Digital with Analog Rev
*All the specifications are subject to change upon company rules, policy, offer & promotion. BikeBD is not liable for the changes.
So, readers, this was quite a glance at the feature differences of the Yamaha FZS-FI V3 VS Pulsar NS160-FI. You can see both the bike featured differently adding with updated features. Accordingly, both of them has own corner of advancement and backlogs.
Hence, currently, Yamaha FZS-Fi V3 has a price tag of 2,95,000 BDT while the FZ-Fi V3 price 2,90,000 BDT. On the other hand, Bajaj Pulsar NS160 Fi with ABS cost 2,54,900 BDT. Thereby the ranking decision obviously remaining upon you. Concentrate on what is your priority and which feature you need most. So, choose your option wisely. Thanks, everyone.
You might also be interested in