Yamaha Fazer 153 Ownership Review By Saleh Md Hassan
Published On 17-Feb-2013 07:05pm , By Shuvo
Dear riders, I am Hassan from Rangpur. Here I'll try to explain my Yamaha Fazer 153 ownership review while comparing it with some other bikes. My biking started in 1992 (when I was in 7th class of school) with my father's second bike HONDA HS100 CDI. That was a two-stroke 100cc Japanese bike. People of Bangladesh must know that this bike had ruled our roads for more than two decades. And we (my father, me & my younger brother) ran over 3,00,000 km and passed 24 years with that. And my father's first bike was the YAMAHA YBR 100cc (bought in 1981), which also was a two-stroke 100cc Japanese bike. As I was very much a small aged kid so I could not ride the bike. But when I started my riding I have tested one of my friend's relatives YAMAHA YBR many times. It has a great test to ride; the instant & quick throttle response was really great as two-stroke bike responses quicker than four-stroke bike. Whatever, those can be reviewed in the different heading.
Yamaha Fazer 153 Ownership Review By Saleh Md Hassan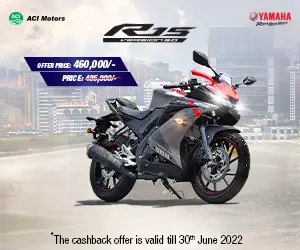 _x000D_ _x000D_
Selection Process of  Yamaha Fazer:
_x000D_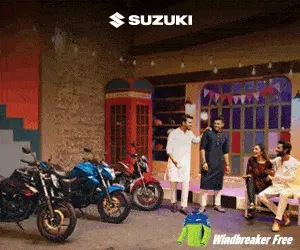 YAMAHA Fazer is the third bike in our family. As a middle earner family, we have no personal bike yet. We consider our father's possessions as our own. But as I am very much interested in bike and frequent rider from a younger age. The silver-colored HONDA HS100 was my trademark.
_x000D_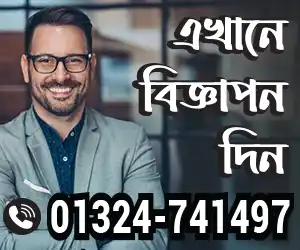 _x000D_
I have passed a long and long road with that and passed many years. And it grew old and I realized (maybe after 2007) I should buy a new bike which can give me such power and reliability. But there was no Japanese bike in the market as importing bikes from Japan has stopped. At that time Bajaj Pulser 150, Hero Honda Hunk, CBZ (old model), TVS Apache and other 100 and 135cc Indian and other reconditioned Japanese and Chinese bike were available in the market. And there also a CC barrier up to 150. Â In this situation to select the perfect bike available in the market, I started testing different bikes lending from others. I found 100-135cc four-stroke engine cannot meet my need and test. Only 150cc or upward can satisfy me where fuel was no problem against my test as my HONDA HS100 gives me only 28-37 in different conditions. At then I shortlisted some bikes as:
_x000D_ _x000D_
_x000D_
Bajaj Pulser 150
_x000D_
Hero Honda Hunk
_x000D_
HH CBZ (not Extreme)
_x000D_
Honda Unicorn
_x000D_
TVS Apache 150
_x000D_
_x000D_
At that time I started to analyze thoroughly these bikes according to power, design, reliability, making quality judging by my achieved experience but not according to specifications provided by the brochures. After a long period of analysis by my real-time experience I found some pinpoints which described as bellow:
_x000D_
Bajaj Pulser 150:Â Huge power in this segment, excellent pickup, looks great, good making quality, good mileage but mileage decreases by the time, parts availability frequent, available service center, less durability, notchy gear, engine sound distorted and vibrates when using rough, the suspension is not good enough, handlebar controlling is not good, risky when carving for cornering, need much maintenance, only single-hand use can extend its life span.
_x000D_
Hero Honda Hunk: Â Smooth power delivery, good pickup, super fine engine, super-smooth gear, no engine noise & vibration, the suspension is fine, good to look especially fuel tank but I do not like the headlamp (but now its shape has changed) and rear tire, good making quality, mileage good and constant, low maintenance, durable and reliable, available parts, the service center is not enough and service is not good.
_x000D_
HH CBZ (not Extreme): Its quality was similar to HHH but it had a regular shape and I didn't like the headlamp. And its riding position is higher than the others and I think it is perfect for taller people who are above 5' 6".
_x000D_
Honda Unicorn:Â Â All the quality of HHH goes on it but I did not like its model and looks but impressed with the rear mono-shock absorber, I think this is the first Indian bike with the mono rear shock.
_x000D_
TVS Apache 150: It had a nice look also, engine sound much deep & impressive, a small bike which perfect for bellow 5'6" height people, ready acceleration, and a short time to gain top speed. Finishing is good, mileage good but it decreases, parts quality average, maintenance is average. But one major problem is engine vibration, which kills all the quality of TVS.
_x000D_ _x000D_
_x000D_
So after analyzing all pro and cons and sharing those with my father (as he is my one of friends and an experienced bike lover) I shorted my list with Hero Honda Hunk & Bajaj Pulser 150 and proposed father to buy any one of them as I could not decide for which I'll propose. After that father proposed for Bajaj Pulser 150 and waited to arrange money. And I was also tried to arrange money to buy it with my own money as I got a job in Bank (where I posted in Nrshingdi district). At the end of 2009, I found on the web that Yamaha has launched FZ16 in India and there was another bike R15 which was rarely known in Bangladesh but only on the web. I started to collect info about them. And at last, in July 2010 FZ & FZS became available in Dhaka. And R15 (V 1.0) is not available in Bangladesh at that time.
_x000D_ _x000D_ _x000D_ [caption id="attachment_3659" align="aligncenter" width="491"]
My Father with Fazer[/caption]_x000D_
_x000D_
Surprise:
_x000D_
Finally in November of 2010 when I came home father told me that he is going to buy Bajaj Pulser 150 within a short time and told me to see the market again. I went to Bajaj (Uttara Motors), Honda & Yamaha (Karnafuli) showroom, and surprisingly found Yamaha Fazer at Karnafuli showroom, which I found on web only a few months ago. And this red colored five bike lot was the first lot of Karnafuli Rangpur showroom. So I informed father about that and found he has already visited that. So I tried to convince him not to buy Bajaj Pulser 150 and go for Yamaha Fazer or even FZ/FZS. My leave was ended and I joined to my duty again on Sunday, November 28, 2010. At 11:30 father called me over my cell when I was working at my office desk (Narshingdi) and told me to listen to the roar of my BEAST!!! At that time I confounded and stopped, tears rolled down over my eyes, my wife told father have bought your Fazer,,,,,, that was the greatest surprise in my little life….. thanks to Allah.
_x000D_
After that the whole working week was the worst period to wait for Friday and when I'll be at home Rangpur and see my beast. That Friday was one of a memorable day for me,,,, it was like to see my newborn baby. On that Friday foggy dark morning, I reached home traveling sleepless full night by bus from Narshingdi. Pushed the doorbell, my wife opened the gate and I went to the garage giving her my backpack….. it was standing beside my old HONDA HS100.
_x000D_
_x000D_
_x000D_
The moment cannot be explained, my wife gave me the key, I started the engine raising the choke and pushing the button… get heated the engine I revved it up and it deeply roared…. And I found, that's the beast I was searching for… then I took it out for the test ride and ran through the whole city around 18km and came home.
_x000D_
_x000D_
At that time father awakened and he was smiling seeing my surprising attitude. Thus I have passed two years riding my beast. And now I am experienced enough to write about my beast.
_x000D_ _x000D_
The satisfaction of choice:
_x000D_
I was the blind lover of two-stroke bike and not satisfied with the four-stroke engine power and acceleration. And I have chosen the bike just blindly without having ridden it before. I depended only on the information I collected through the web, the Brand name YAMAHA and its other proven lower CC bike reputation.
_x000D_
_x000D_
And now I think it was the best choice beyond my and my family's capability. I like Yamaha R15 as it is a great bike no doubt. But it was out of my financial rage for this segment. I do not agree to give BDT 4,10,000 for only 150cc single-cylinder and 17ps of engine power, which can give me a comfortable top speed of 130kmph (it runs over 140kmph with red zone rpm), where I spent only BDT 2,05,000 for Fazer, which have 14ps of engine power and gives a comfortable top speed of 118kmpl (it runs over 125kmph with red zone rpm). So I am satisfied with my range.
_x000D_ _x000D_
Design / Looks / Style:
_x000D_
I was fascinated with the design and looks of Bajaj Pulser 150, especially the wolf head shaped headlamp, big fuel tank, slashed trail lamp. But when I saw the FZ16 on the web I collected huge photos from a different angles. Every angle impressed me.
_x000D_
_x000D_
The dissected fuel tank, wider low profile rear tire, huge silencer jacket, rear mono-shock absorber, full digital dashboard, macho headlamp, passenger seat height, riding posture everything impressed me. But when I looked Fazer at showroom then I become more impressed by the double headlamp rounded with aerodynamic cowling. In one word the design is really impressive among the bikes available in our market.
_x000D_
_x000D_ _x000D_
Build Quality:
_x000D_
After Yamaha R15 the FZ/FZS/Fazer has the best build quality. After these HHH & CBZ also provides quality making (Honda CBR 150 has not entered our market). For example, you will see the differences when comparing with other bikes the side stand, center stand, handlebar, lever, screws, cables, cable guard, etc. But I miss the Japanese coloring quality on my Fazer. The paint job is good but not good enough like my old HONDA HS100. The color is not scratch proof. I saw many bikes with burned color though my bike has not glowed out for my special care.
_x000D_
_x000D_ _x000D_
Engine & Performance:
_x000D_
The engine of Fazer is 4 stroke air cooled SOHC (Single Overhead Cam) with solid cubic shaped (58.0 X 57.9 mm) single-cylinder which gives a displacement of 153cc. The combustion chamber has a compression capability of 9.50:1 which produces a maximum power of 14ps with a pleasant RPM of 7500. And the great engineering is that it gives the maximum torque of 14 NM with the RPM of 6000. So the engine does not need to struggle hard to give the maximum performance. So the engine always gives smooth & deep sound and smoother performance at any speed within its speed line. And you will not feel any vibration even gaining the top speed. You will only feel the beast is roaring like Brrrrrrrruuuuuuuuuuuuuuuu……. lolz.Â
_x000D_ _x000D_
Speed & Mileage:
_x000D_
Maximum top speed depends upon your bike condition and how well you maintain and treat your bike. First time I have gained 109kmph with my wife and many times I have touched 112kmph with 7500 RPM as my area does not have much pretty safe highway and there are huge speed breakers. But At Dhaka city, I and my friend picked his Fazer comfortably to 118kmph within 8500 RPM. So it can go more.
_x000D_
The mileage I have experienced 18-42 within my two years of riding Fazer. It also depends on your riding mode and how well you maintain your bike. First 1000 km I got only 18-22kmpl mileage and then it extended. Now when I just ride steady within 85kmph on the highway it gives 40-42. But when you ride over 90 or 100 kmph it reduced to 28-32. And within the city in huge traffic, it gives only 30-35kmpl. And this is the standard for this bike.
_x000D_
_x000D_ _x000D_
Controlling & Handling:
_x000D_
If you talk about controlling you should ride the bike first to feel superior in controlling. The wider handlebar provides wider control. I have experienced bad and felt pressure and less control with other bikes in the test ride while moving the handle straight from cornering due to handlebar position, height, and narrow in size. The handle position and height of the Fazer is much comfortable, you will not feel any pain with the wrist and arm while driving in the city or even on a long tour.
_x000D_
Footrest, as well as gear & brake lever position considering the rider's seat position, is perfect which gives the confidence over the bike in any situation.
_x000D_
Fazer is equipped with 5-speed super-smooth gearbox with a wet-type multiple clutch plate. You just have to click the gears up and down holding the clutch lever to change. You will not feel any hesitation to shift the gear frequently where other biker hesitates due to notchy gear and gear missing tendency with other bike. And you will feel the power of the gears when riding the bike, and 3rd gear has added some extra fun while riding in the city.
_x000D_
Before talking about the breaking power I have to describe another important thing which is the center of gravity tendency and centralized weight distribution technology of this bike, which I studied with the different articles and judged on road with my Fazer. This bike has designed with centralized weight distribution technology which tends the bike to stick with the road from the middle-lower part, so that bike can be controlled better than others even in worst situation and gives maximum safety at a higher speed. And it is the key opportunity to making perfect braking power as well as extreme cornering ability. So cornering with Fazer in high speed is the real fun. You can control even you corner extreme while your footrest touches the road and maybe makes spark.
_x000D_
The breaking system of Fazer is great. The front disk brake designed with a single-cylinder double clipper mechanism and the rear brake is drum type with the inner shoes which is enough with the center gravity technology to stop a bike even over 100kmph speed. Though I wished for rear disk break but this drum brake does its job great. Especially when you hold the front & rear brake simultaneously even in high speed it works great with the front and rear suspension and the beast gets and sits down like the pet tomcat, and there is no option for skidding or slippage where wheels are fitted with low profile wider MRF Zapper tubeless tire. And there is no option for sudden detaching the tire being punctured. So you are always confident on the road.
_x000D_
_x000D_ _x000D_
Suspension & Comfort:
_x000D_
This is a major issue that feels when you are riding a Japanese vehicle. With FZ/FZS/Fazer you can feel it. Suspension of this bike designed with fat tube front telescopic fork and fat mono cross rear shock absorber which equipped with coil spring as well as an oil damper. Fat tube provides larger amount of suspension both from coil and oil compression. And wider MRF Zapper tire gives excellent feelings even riding on potholes or cracked roads or on notched speed breakers.
_x000D_ _x000D_
Reliability / Durability:
_x000D_
I am now in the position to talk about that as I have passed only two years with my Fazer and ran only about 10,000km on odometer (as I am engaged in bank job and remain very busy and cannot go out for ride). After riding above 50,000km I can talk about that. But within the short time of riding Fazer it seems it will be one of reliable pet for me for long time. Its building quality, finishing, and smooth performance assure that. Let's hope for the best.
_x000D_ _x000D_
Maintenance:
_x000D_
This point can be also highlighted when I had ridden a long or passed with long time with my bike. But I would like share my some of experience considering my short period of riding Fazer. It seem FZ/FZS/Fazer is a low maintenance bike and does not need to frequent change of engine parts like others. As service center people told me just ride never bother, you are riding one of the best bikes (in this segment). But I believe you should take care of your bike properly after a regular interval. No machine can give you the optimum performance unless you take care of it.
_x000D_
As it is electric start bike you should always check your battery power regularly. Don't use extra light or horn which can drain the battery. Keep the electrolyte level with in standard level. Wash the dirt stuck under and above the engine, center stand & chain. Oil the chain and other moving parts frequently. Have patience in break in period, it's a crucial period for future engine performance, mileage and life. Never rev hard when you start engine early in the morning and rise the speed up after some km of smooth riding. Use unleaded fuel. Never use extra power chemicals with fuel. Drain engine oil regularly with same grade every time. Keep your spark plug and air cleaner clean. Don't try to tune the carburetor without having experienced enough. Don't go for engine related modification. Don't give your bike to other, people never treats with it like you.
_x000D_ _x000D_
Pros:_x000D_
_x000D_
I have described all the pros above but also,
_x000D_ _x000D_
_x000D_
     Double horn has much sharp and sweet sound.
_x000D_
     Tail lamp shows the trade mark of FZ/FZS/Fazer at the dark of night.
_x000D_
     Wider tubeless low profile rear tire works good and looks good.
_x000D_
_x000D_
_x000D_ _x000D_
Cons:
_x000D_
_x000D_

     1

st

and 2

nd

gear should have more power and larger working span.

_x000D_

     Rear tire has not as much grip as front tire has.

_x000D_

     It is fully on road bike not for even simple off or cracked road where sand and pebble are spread over the road.

_x000D_

     Battery is dull item for this bike. It does not give support when the head lamp is on and you are pushing the horn.

_x000D_

     It tries to drain when you are with high beam light in slow speed. Yamaha engineers should change this bullshit.

_x000D_

    Disappointed not to have any rear disk break though drum break works good.

_x000D_

    Twain head lamp does not works together. I have changed the sockets and made the lamps work together, but battery drains out.

_x000D_

     No space to keep documents or extra toolkit

_x000D_

     Toolkits are not sufficient and so cheap in quality.

_x000D_

     Passenger seat is not comfortable (I have not experienced the 2012 model seat).

_x000D_

     Passenger foot rest is too weak to take the load of heavy weight passenger.

_x000D_

     Leg guard is very cheep (though it is optional parts)

_x000D_

     It has no clock and no top speed recorder.

_x000D_

     It's not a sports bike; we can call it as pre sports bike.

_x000D_

     Handle bar switches have no illumination facility when you are turn the head lamp on.

_x000D_

     Parts are high priced.

_x000D_
_x000D_
_x000D_ _x000D_
Ending note:
_x000D_
From my judgment Yamaha Fazer is good enough for this segment. But no one is perfect. From my concern, according to the look and design this bike should have more CC and more engine power around 20ps and of course more some kgs of weight and then it would be a bomb blasting bike.
_x000D_
Whatever so I dream for Yamaha R1, Kawasaki Z 1000, and Yamaha V-MAX. Maybe Insha-Allah one day I'll be the owner one of them. Thanks for your patience. Appreciating You'r valuable comments about this Yamaha Fazer 153 ownership review.
_x000D_
-By Saleh Md. Hassan
_x000D_ _x000D_
You can send us your motorcycle ownership review too. Share your experience and moments with your bike via our blog. You can write in Bengali or English or, both. Click here for a guideline on how you should write your ownership review and then send your ownership review to articles.bikebd@gmail.com
You might also be interested in