TVS Shadhinota Uthsob - Discount On Registration
Published On 09-Mar-2019 07:16am , By Ashik Mahmud
TVS Auto Bangladesh announced an offer for the month of Bangladesh Independence. This offer is called as "TVS Shadhinota Uthsob". In this offer they are giving discount on registration of their motorcycles.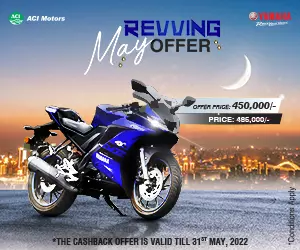 TVS Shadhinota Uthsob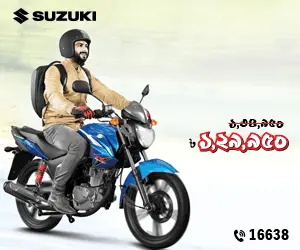 | | |
| --- | --- |
| Model | Price |
| RTR 160 (Yellow) | 1,62,827 |
| RTR 160 (SD) | 1,68,460 |
| RTR 160 (DD) | 1,75,460 |
| Stryker 125 | 1,17,460 |
| Metro Plus 110 (Drum) | 1,03,460 |
| Metro Plus 110 (Disc) | 1,10,460 |
| Metro 100 (Electric) | 90,070 |
| Metro 100 (Kick) | 84,070 |
| XL 100 | 56,900 |
https://www.youtube.com/watch?v=GMOXO64gDaM On the table we can see that TVS is giving discount on their every models of motorcycle. TVS giving maximum 12,073 BDT fee registration discount offer on this "TVS Shadhinota Uthsob". But they are not giving any kind of a discount or registration offer on TVS Apache RTR 160 4V.
TVS launched Apache RTR 4V at the end of 2018. Many bikers waited for the bikes. After launching RTR4V getting the attraction of bikers. This bike carries 160cc engine which will produce 16.3 BHP @ 8000 RPM & 14.8 NM of Torque @ 6500 RPM. If you wants to no more about this bike, you can read our test ride review and also see the video review on our youtube channel.
In this year on Indo-Bangla Automotive Show 2019 TVS participated in the show. They displayed their every models. Specially the TVS Apache RTR 4V. In Indo-Bangla TVS arranged game show for the bikers.
Now the thing is 5th Dhaka Bike Show 2019 is coming up on this month. Every companies and bikers are waiting for the show. In Indo - Bangla Automotive Show TVS didn't show any new bike. We can hope that TVS will introduce new Bike in Dhaka Bike Show 2019.
About Dhaka Bike Show 2019 you will get the update on our facebook fan page, website and youtube channel don't forget to subscribe. "TVS Shadhinota Uthsob" is giving the bikers to buy their favorite TVS motorcycle, this offer strat 6th March and continue till 31st March 2019. This offer will raise up the motorcycle market before the Dhaka Bike Show 2019. Lets see what happen before and after Dhaka Bike Show. Visti our website and keep eye on our youtube channel.
Published by Ashik Mahmud
You might also be interested in