Honda Life - New Honda Motorcycle Showroom In Baridhara
Published On 05-Jan-2019 05:33pm , By Ashik Mahmud
Honda Motorcycles Bangladesh
is currently one of the leading motorcycle brands in Bangladesh. They are going forward to put their showrooms and servicing in every corner of the country, and the inauguration of Honda Life is another step in that goal.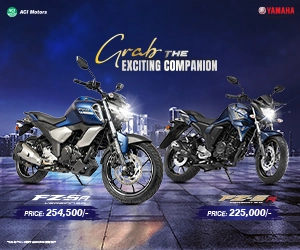 Honda Life is the first Honda motorcycle showroom in Baridhara area. It is the 8th Honda motorcycle showroom in Dhaka city, and 91st in Bangladesh. Honda Bangladesh private Ltd is increasing their network really fast, and Honda Life is another crown in their map.

Honda Life is a sales, servicing and spares center for Honda motorcycles & scooters in Bangladesh. They have a large showroom, a big servicing bay, and a supply of spares. It is the first and till now, only Honda motorcycle showroom in Baridhara or nearby area, so the Honda riders in that area will be really benefited from this.
The Inauguration program of Honda life took place in the Honda Life showroom. The showroom was inaugurated by the Vice President of BHL, Mr. Ratan. Many bikers were invited to this event, and the event launched this new showroom with proper reception. Honda Life Address: Plot 42, Block J, Pragati Sarani, Baridhara, Dhaka (Near Notun Bazar Mor, Between Notun Bazar & Jamuna Future Park) Honda Life Contact Number: 01317497141 , 01317497142
Honda has recently reduced the price of their most popular motorcycle model,
Honda CB Hornet 160R
by a big margin! Hopefully in the start of this new year Honda will be able to introduce us more great bikes and open many more showrooms and also start manufacturing more motorcycle models like
Honda Dream Neo
.
Honda Life will definitely be big good news for bikers living around Baridhara, Notun Bazar, and other areas around this. Hopefully, Honda Bangladesh will also inaugurate more showrooms all around Bangladesh and also launch new bikes at competitive prices like always.
Published by Ashik Mahmud
You might also be interested in