ACI Motors Ltd Announced Boishakhi Ullash Offer April 2019
Published On 01-Jan-1970 06:00am , By Ashik Mahmud
Yamaha Motorcycles Bangladesh - ACI Motors Ltd announced a "Boishakhi Ullash" offer for the entire month of April 2019. In this offer ACI will be giving cashback on their motorcycles.
ACI Motors Ltd Announced Boishakhi Ullash Offer April 2019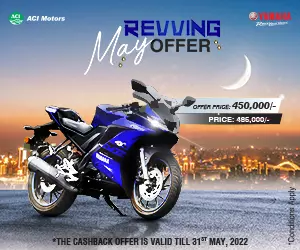 Boishakhi Ullash Offer
| | | |
| --- | --- | --- |
| Model Name | Price | Cashback |
| R15 V3 (Movistar) | 5,25,000 | 15,000 & Riding Jacket |
| FZS (DD) | 2,65,000 | 11,000 |
| FZS (SD) | 2,49,000 | 11,000 |
| SZ-RR V2 | 1,85,000 | 12,000 |
| SZRR (SE) | 1,90,000 | 12,000 |
| Saluto (SE) | 1,45,000 | 9,000 |
| Saluto Disc | 1,41,000 | 9,000 |
In this offer, they are offering maximum 12,000 BDT discount which will be valid on Yamaha SZ-RR & Yamaha SZ-RR Special edition.They are also giving 11,000 BDT discount on Yamaha FZS Fi V2 & Yamaha FZS FI V2 (Dual Disc). As you can find out the difference between those two versions in our first impression video review.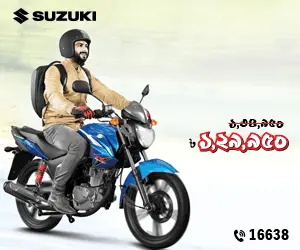 Yamaha also giving discount on Yamaha Saluto which worth of 9,000 BDT and also free riding jacket with the Yamaha R15 V3 (Movistar) with the new price of Yamaha R15 V3 Movistar being reduced to 15,000 BDT from 540,000 to 515,000 BDT. Last month ACI participated in the 5th Dhaka Bike Show 2019. In Dhaka bike show, they showcased two upcoming bikes one is Yamaha MT15 and another one is Yamaha FZS V3. These two bikes were one of the attractions of the Dhaka Bike Show 2019.
Yamaha is known for its premium quality bikes. Yamaha MT15 is one of them, this MT15 carries the same chassis and engine from the full-faired Yamaha R15 V3. Moreover, the bikes have the same suspensions, braking equipment, but unlike a R15 V3 this bike is a naked sports motorcycle. ACI Motors Ltd. has really been upgrading their game with regular offers and very recently, they have collaborated with Brac Bank & City Bank so that Bikers who want to purchase Yamaha Motorcycles can get a bank loan to fulfill their dream.
This offer will continue through the entire month of April 2019. With premium motorcycle market in Bangladesh is becoming very competitive Yamaha lovers will now get the chance to buy motorcycles at a good discount price from authorized Yamaha dealers in Bangladesh.
Published by Ashik Mahmud
You might also be interested in