Yamaha Motorcycle Dhamaka Exchange Offer!
Published On 16-May-2019 05:27pm , By Ashik Mahmud
Yamaha Motorcycles - ACI Motors has been giving away a Motorcycle Dhamaka Exchange Offer from any old bike to Yamaha Bikes!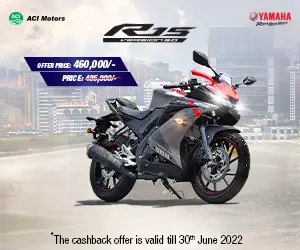 ACI Motors has declared a campaign where they are giving away an opportunity for bikers to own their dream Yamaha Motorcycle by exchanging their current bike. Right now, this Motorcycle Exchange offer is available only in Dhaka. Yamaha is one of the most popular motorcycle brand in Bangladesh, and the models are really popular and even dream bikes for some people. Yamaha Motorcycles currently has a lot of offers and facilities, including offers like Eid Discount offer and facilities like Bank Loan Facility where they have collaborated with Brac Bank to provide bank loans for people who wants to buy Yamaha Motorcycle. Right now, they have announced Yamaha Motorcycle Exchange Offer.
Yamaha FZS V3 First Impression Video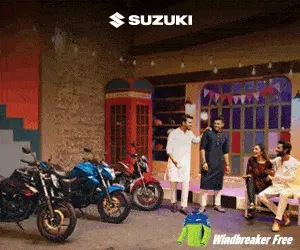 Yamaha Motorcycle Dhamaka Exchange Offer
The Offer is a really interesting yet simple and effective one. Any biker can visit Yamaha Showroom and exchange his current bike for any Yamaha Motorcycles from Yamaha Saluto & FZS FI all the way to Yamaha R15 V3. Anyone can bring their bike in the Yamaha Showroom, where they will take the old bike and evaluate its value based on the current used bike market. Then, the customer will get that amount as a discount when purchasing the new Yamaha Motorcycle. The major facilities of this Exchange Offer are that it is really fast, and the customer doesn't even need to post any sell posts or doesn't even need to look for buyers or anything.
The Yamaha Showroom will judge the bike to evaluate the value and without any delay, the customer will receive his desired Yamaha Motorcycle. Based on the price and the value of the old bike, the customer needs to add an amount of money while exchanging.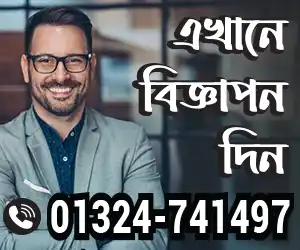 Currently, the Yamaha Motorcycle Exchange Offer is going on only in Dhaka, In the Crescent Enterprise. Hopefully soon this offer will spread out all throughout Bangladesh. Yamaha Motorcycle Dhamaka Exchange Offer Hotline: 01713053082 This is a really great offer for Motorcycle enthusiasts in Bangladesh as this will help many people get a brand new bike in exchange for their old bike without any hassle or delay. More motorcycle companies should come forward with facilities like this in order to ensure the best for the bikers.
Published by Ashik Mahmud
You might also be interested in